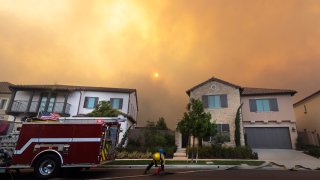 What to Know
About 100,000 people are under evacuation orders due to the Silverado Fire.
The fire started near Santiago Canyon and Silverado Canyon roads and quickly chewed through thousands of acres hours laters.
Most of Southern California is under a red flag fire weather warning through Tuesday due to dry and windy conditions.
Tens of thousands of residents are under evacuation orders as firefighters attack a wind-driven brush fire that may have been sparked by utility equipment early Monday before spreading quickly in Orange County's Santiago Canyon area.
Updated Article: Click here for updates on the Silverado Fire.
Two firefighters were critically injured as they battled the fire, which started at about 7 a.m. Fanned by extremely strong winds, the Silverado Fire expanded to more than 500 acres about three hours later near Santiago Canyon and Silverado Canyon roads. The fire was estimated at about 2,000 acres late Monday morning and 4,000 acres in the early afternoon with no containment. By Monday night, it had grown to more than 7,200 acres.
A spokesperson for Southern California Edison said that SCE had submitted an initial electric safety incident report to the California Public Utilities Commission stating that a lashing wire attached to a telecommunication line may have contacted a SCE power line and possibly started the fire. The cause is still under investigation, and SCE said it will fully cooperate with the investigation.
Water-dropping helicopters were at the scene, but dangerous wind gusts threatened to ground the air crafts during the day. Two Orange County Fire Authority helicopters and the Helitanker were due to drop water overnight. Crews were re-filling with water form nearby Lake Irvine. About 750 firefighters were battling the fire.
Two OCFA Handcrew members, ages 26 and 31, were critically injured. They suffered second- and third-degree burns.
"Please keep them in your thoughts and prayers," the OCFA tweeted.
The fire jumped Route 241, forcing the closure of Route 241 and other nearby roads.
A long line of people, many with homes in the evacuation zone, were waiting to fuel up at an Irvine gas station at midday.
"We had bags ready to go," an evacuated resident with his family said. "We live in a fire zone, so you have to be ready.
"When they said the fire was jumping the 241, that's when we left... It's 2020, so we've learned to be ready."
Evacuation Orders in Irvine Area
Mandatory evacuations for Orchard Hills on Irvine Boulevard and from Bake Parkway to Jamboree Road were issued around 9 a.m.
The Irvine Police Department issued a mandatory evacuation order for all residences from north of Irvine Boulevard from Jamboree Road to Bake Parkway, as well as from Irvine Boulevard south to Trabuco Road and from Jeffrey Road east to Portola High School.
About 100,000 people are under evacuation orders, according to officials at an evening news conference. By nightfall, 70,000 homes were under mandatory evacuation orders in Irvine and another 6,000 homes were under mandatory evacuation orders in Lake Forest, according to the OCFA.
Click here for an evacuations map.
"Orchard Hills will shortly be placed under an evacuation order. Residents north of #Irvine Boulevard will be placed on an evacuation "warning," City of Irvine councilmember Anthony Kuo tweeted.
Orange County officials have issued evacuation warnings for residents of Lemon Heights and Cowan Heights in the north Tustin area. Residents are urged to prepare to evacuate, an Orange County spokeswoman says.
Mandatory evacuations were also ordered for several zones within the Baker Ranch area. Click here for a map.
Several elementary schools also are under mandatory evacuation orders.
Canyon View
Santiago Hills
Portola Springs
Eastwood
Stonegate
Loma Ridge
All Irvine Unified School District schools will be closed Tuesday due to the fire, the school district announced, along with UC Irvine.
Evacuation centers were set up at the following locations.
Harvard Community Center, 14701 Harvard
Rancho Senior Center, 3 Ethel Coplen Way
Las Lomas Community Center
Turtle Rock Community Center
Village Church of Irvine
A Care and Reception Center was set up at El Toro High School in Lake Forest.
The Barranca, Foothill Ranch and Tustin Ranch Kaiser Permanente medical facilities serving the Irvine community were temporarily closed due to the Silverado Fire. The Kaiser Permanente Irvine Medical Center COVID-19 drive-thru testing site was also temporarily closed.
Smoke can be seen from miles away, including form Irvine, Newport Beach and other areas.
The fire broke out during a day of red flag warnings that will remain in effect through Tuesday. Wind gusts of 60 to 80 mph are possible in some mountain passes.
Historically, October is one of the worst months of the year for wildfires in California, due in large part to months of dry conditions and strong fall winds. But in 2020, the state has already seen five of its six largest wildfires during August and September.
As of Sunday, there were 20 major wildfires burning in California. More than 4 million acres have burned this year, far surpassing any previous yearly total on record.