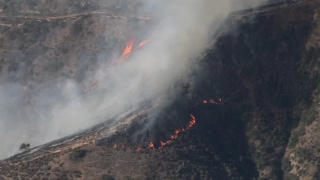 More than a dozen homes were evacuated as a small fire erupted in Glendale Tuesday amid dangerous fire weather conditions, but by 4 p.m., crews were working to mop up the blaze.
The brush fire started near Brand Park on Mountain Street, the Glendale Fire Department said.
It was said to be about 8 acres by 3 p.m.
Power was shut off at the 900-1000 block of W. Mountain Street as a safety precaution, according to the fire department.
Fourteen homes along Idlewood Road and W. Mountain Street were evacuated as a precaution.
The fire began burning as the Blue Ridge Fire and Silverado Fire burned thousands of acres. The Blue Ridge Fire burned 15,200 acres and 0% contained, while the Silverado Fire burned 12,600 acres and 5% contained Tuesday afternoon.