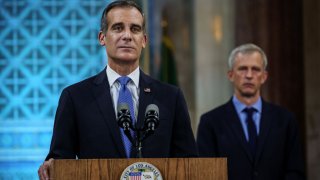 Los Angeles Mayor Eric Garcetti Wednesday announced that the city and county were scaling up COVID-19 dramatically, nearly doubling their testing capacity after recent reports of testing appointments hitting capacity.
The mayor said testing capacity would be increased from 7,700 tests to 13,700 tests per day. Tests remain free for all residents, Garcetti said.
To sign up for tests, click here.
Please check back for updates.