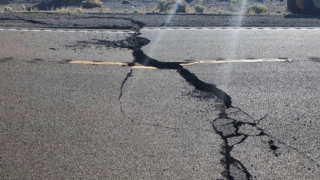 A magnitude-6.5 earthquake Friday morning in western Nevada rattled parts of California and left a crack across a highway that connects Reno and Las Vegas.
The quake, which struck at about 4:05 a.m., was centered about 120 miles east-southeast of South Lake Tahoe, the USGS said. It was initially reported to have a magnitude of 6.4, but was later upgraded to 6.5.
Shaking was felt in Nevada, California and Utah.
The quake was followed by multiple aftershocks, including two measuring magnitude-4.9 and one of magntiude-5.1.
Photos posted by the Nevada Highway Patrol showed a crack in the pavement across Highway 95. The road was closed between State Route 360 and Highway 6, but has since been reopened.
The remote region of Nevada has historically produced quakes of similar size. The largest on record was a magnitude-7.3 earthquake in 1954 that was about 100 miles north of Friday's quake.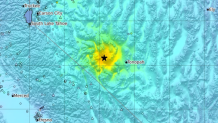 The Fairview Peak sequence began with a magnitude-6.8 quake and included earthquakes of magnitude-6.8, 7.3, 6.6 and 6.9 over the next six months, said seismologist Dr. Lucy Jones.
"This morning's M6.5 is in the Basin&Range geologic province just like the M6.5 in Idaho on 3/31," Jones tweeted Friday. "Both are part of the stretching out of the western US as the North American plate sticks a bit to the Pacific Plate as the two move past each other."
Correction: A previous version of this article indicated the earthquake was Thursday. The earthquake was Friday morning.
Photos: What to Keep in Your Disaster Emergency Kit