James Holmes, the suspect in a deadly rampage inside an Aurora, Colo., theater, attended high school in San Diego. He was remembered as quiet and studious by neighbors.
Twelve people were killed and 59 people were injured in a shooting during a midnight screening of the new Batman movie "The Dark Knight Rises" in the suburb of Denver.
Federal law enforcement officials arrested James Holmes, 24, behind the theater minutes after they received hundreds of 911 calls from witnesses. He will have his first court appearance Monday.
Neighbors outside the Holmes family home on Sparren Avenue in the Rancho Penasquitos area of San Diego recalled Holmes as a quiet, shy teenager who graduated in 2006 from Westview High School in the Poway school district, which is known for high acadmic achievement.
Lisa Damiani, a lawyer representing the Holmes family, said this is "a very difficult time" for the family but did not make a formal statement.
The neighborhood where his family lives is a well-tended enclave of two-story homes with red-tiled roofs. Neighbors recalled Holmes as clean-cut, studious and quiet. Some described him as "unremarkable."
Julie Adams, whose son played junior varsity soccer with Holmes, said her son remembered little about the suspect, which was unusual for the tight-knit team.
"I don't think many of the kids (teammates) knew him. He was kind of a loner," she said.
Soccer teammate Alex Van Horne confirmed that impression.
"I remember his face, I remember playing on the team, but he was never one of the individuals who was a standout," Van Horne said.
Beginning in May, he had begun to acquire the four weapons he allegedly used in the shooting, including one sometimes called an "assault rifle," according to Aurora police.
Holmes' Aurora apartment was "booby-trapped with various incendiary and chemical devices and apparent trip wires," Aurora Police Chief Dan Oates said.
What led him to his actions remains a mystery. And what's unusual is that in the age of widespread social media, there are no clues online. Holmes either never engaged or scrubbed his trail on the Internet. No trace of him could be found on Facebook, LinkedIn, MySpace, Twitter or anywhere on the web.
The son of a nurse, Arlene, and a software company manager, Robert, James Holmes was a brilliant science scholar in college.
Holmes had attended UC Riverside, where he graduated with honors with a bachelor's of science degree in neuroscience in 2010, according to Chancellor Tim White. He was a top student in the rigorous program, White said.
"He obviously academically had the capability to do just about anything he wanted academically," White said.
After struggling to find a job when he returned from Riverside to San Diego, Holmes went to Colorado to attend the University of Colorado School of Medicine in Aurora. For a time, he worked part time at McDonald's after finishing college.
Next-door neighbor Tom Mai said the Holmeses had holiday parties and nothing ever seemed amis.
"At the Christmas parties, he seemed to be a very nice, kind young man," Mai said.
There, he was pursuing a graduate neuroscience degree -- until he began the process of withdrawing month ago, according to university officials.
Family friends identified Holmes from his senior photo in a Westview High School yearbook from 2006. The image is pictured below at left, next to the official photo released from the University of Colorado.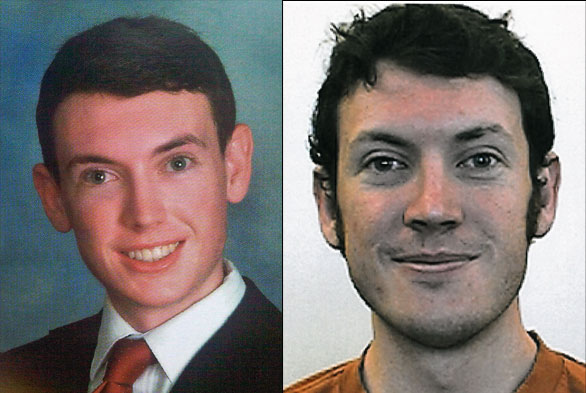 San Diego police officers were called to Sparren Avenue once television news crews began knocking on the door of James Holmes' family, according to SDPD Lt. Andra Brown.
Officers escorted James Holmes' father from the home before 8 a.m. He quietly walked to a car driven by police officers while carrying a leather computer bag and a red duffel bag.
The man was spotted standing in line for security at San Diego International Airport with a plane ticket in his pocket. He was asked repeatedly to explain his relationship to James Holmes but refused to comment.
Holmes' mother was still inside the home, according to Brown.
"There have been family friends who have come by to offer support at this time," she said.
The family has had no contact with James since the incident, Brown said.
The Holmes family statement said, "Our hearts go out to those who were involved in this tragedy and to the families and friends of those involved. We ask that the media respect our privacy during this difficult time. Our family is cooperating with authorities in both San Diego, California and Aurora, Colorado. We are still trying to process this information and we appreciate that people will respect our privacy."
A check of court records in San Diego County shows James E. Holmes has no criminal record - not even a traffic ticket, according to San Diego Superior Court spokesperson Karen Dalton.
Chief Dan Oates confirmed the only criminal record Holmes had with his department was a traffic citation issued in October 2011.
Follow NBCLA for the latest LA news, events and entertainment:iPhone/iPad App | Facebook| Twitter | Google+ | Instagram | RSS | Text Alerts | Email Alerts