This time last year, 16-year-old Emily Barnett of Burbank was fighting for her life and confined to a bed at Children's Hospital Los Angeles.
On Wednesday morning, she was there delivering gifts to other young cancer patients at the hospital. Now in remission, Emily was diagnosed with a malignant brain tumor in fall 2011.
She spent months at the hospital's Children's Center for Cancer and Blood Diseases, where she returned for the toy giveaway, which was organized by McDonald Insurance Agency of Burbank.
"I just wanted to come and pass out toys to them and see their reaction, and see how happy they were," Emily said. "I want them to learn maybe you can be happy just by caring about someone."
The founder of the toy giveaway, Live 2 Give Children's Charity, has dubbed Emily "Miracle Girl," and the girl's own doctor is proud.
"She was amazing how she went through every step of the way and has come out now, a beautiful young lady who is going back to school," said Dr. Anat Erdreich-Epstein. "I am just impressed with her."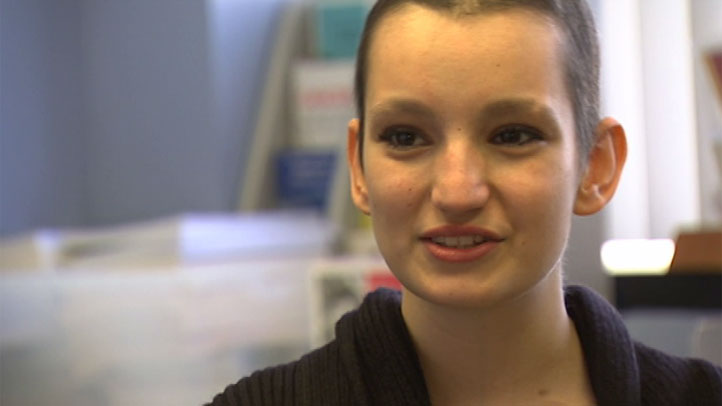 Emily is currently being home-schooled, but she plans to return to Burbank's Burroughs High for her senior year next fall.
Emily said she returned to the center because she recalled how nice it was to get gifts from Live 2 Give when she was sick at the hospital, struggling with medulloblastoma, a common brain tumor in children.
"They gave me gifts during Christmastime, like iTunes cards, Target gift cards. It made me happy cause it's kind of boring sitting in a bed all day," Emily said. "I felt like they cared about me and they cared about all the patients here and they wanted us to have a good holiday."
Still closely shorn but full of smiles, Emily passed out toy trains, dolls and board games to young patients.
"She wanted to give back and pay it forward and that's exactly what she's doing today," said Emily's mother, Lisa Barnett. "So we're really proud of her."
Published at 1:31 PM PST on Jan 9, 2013 | Updated at 7:07 AM PST on Jan 10, 2013