Sam Virgen was brought to tears Sunday as he watched surveillance video of a black shuttle bus that may be responsible for a hit-and-run crash that left his brother hospitalized.
It's unclear if the grainy images captured by the church surveillance camera show the bus investigators are searching for.
But the bus does match the description witnesses gave the Los Angeles County Sheriff's Department: a black party bus with neon lights that fled the scene after hitting Efren Virgen on Fairford Avenue in Norwalk early Saturday.
The church also said the images were captured on the same day and around the same time of the crash.
Virgen was walking home from a bar about 2:30 a.m. when he was hit, his brother said.
"That's my best friend, he's my everything," Sam Virgen said.
The 26-year-old father of two came out of a coma and off life support Sunday.
"All he mumbled to me was, 'Just catch this guy, bro. Just catch the guy who's driving the bus, bro.' I said, 'You don't worry about that, we're going to catch him,'" the brother said.
Virgen will remain hospitalized at St. Francis Medical Center in Lynwood and will need more surgeries to repair his crushed pelvis and legs, his brother said.
"The doctor explained it to me, it's like someone took a sword and just chopped him in half, and that's pretty much what happened," Sam Virgen said, adding that he didn't know if his brother would be able to walk again.
Video May Show Hit-Run Party Bus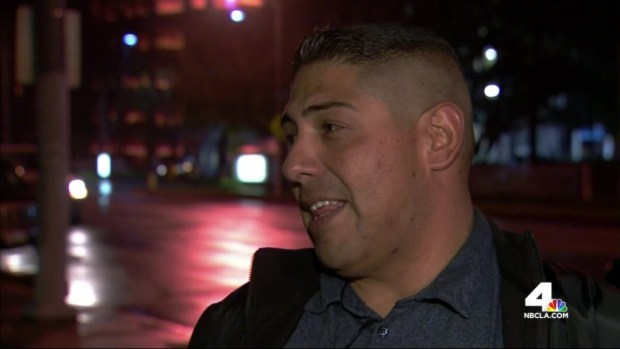 The director of the church said he was going to give sheriff's investigators the video in hopes it would help with the investigation.