Walker Buehler, you're my hero.
Buehler threw six and 2/3 shutout innings in the biggest start of his career as the Los Angeles Dodgers defeated the Colorado Rockies, 5-2, in the National League West tiebreaker game at Dodger Stadium on Monday.
Cody Bellinger and Max Muncy each hit two-run homers as the Dodgers won their sixth consecutive NL West title, advancing to the National League Division Series where they will host the Atlanta Braves on Thursday.
"We're going to beat Atlanta," said Yasiel Puig during the champagne celebration after the game. "No matter who's coming, we're going to the World Series and bring the 2018 championship here."
In just the fourth tiebreaker game in Los Angeles history, and first since 1980, Buehler did not allow a hit through the first five innings before he surrendered a one-out single to Charlie Blackmon in the sixth.
"He's got a lot of talent," said catcher Yasmani Grandal about Buehler. "We don't have a guy whose throwing 100MPH that can dot. Not too many guys can do that. Not too many guys have a four or five pitch mix and can throw them all for strikes. It's one of the best things I've seen."
Dodgers Yasmani Grandal NL West 2018 Celebration Interview
Cody Bellinger gave the Dodgers a 2-0 lead when he belted a two-run homer off German Marquez into the right field seats in the bottom of the fourth inning.
That sweet @Cody_Bellinger swing for the lead. #Game163pic.twitter.com/aPDUqnaweg

— MLB (@MLB) October 1, 2018
Entering the game, Bellinger was 1-for-15 with three strikeouts, and a career .133 OPS against Marquez. Those stats had many fans calling for Chris Taylor to start in centerfield in his place, but thankfully the team went with Bellinger.
One inning later, Muncy hit his team-leading 35th home run of the season when he crushed a 99MPH fastball from Marquez into the opposite field seats in left-center to give the Dodgers a 4-0 lead.
.@maxmuncy9 isn't feeling a trip to Chicago. #Game163pic.twitter.com/91rvC8Kd5M

— MLB (@MLB) October 1, 2018
"He spun the power," said Muncy. "I thought I was taking too big a swing, so I shortened up when I got two strikes, he threw a fastball on the outer corner and I was able to get my barrel to it."
Muncy's 35 homers are three shy of the National League lead and the left-hander leads all of baseball with a home run every 11.3 at-bats this season.
Dodgers Max Muncy NL West 2018 Celebration
Muncy's homer marked the Dodgers 235th home run of the season, the most in franchise history, and tied with the St. Louis Cardinals (2000), San Francisco Giants (2001), Atlanta Braves (2003) and Chicago Cubs (2004) for sixth most in MLB history.
Buehler helped his own cause with a two-out insurance run in the bottom of the sixth inning that gave Los Angeles a 5-0 lead.
That would turn out to be all the run support the Boys in Blue would need, as Buehler (8-5) allowed just one hit, with three walks and three strikeouts in 6 and 2/3 scoreless innings.
"That's the goal," said Buehler of pitching into the seventh inning. "I got us deep enough into the game to let the bullpen finish it off and that's all you can ask for."
In his last 11 starts to end the season, Buehler is 4-1 with a 1.58 ERA and a 0.88 WHIP.
Marquez (14-11), the reigning National League Pitcher of the Month, brought his swing-and-miss stuff, but took the loss, allowing four runs (two earned), on five hits with two walks and nine strikeouts in just 4 and 2/3 innings.
"Our guys will put it in the rearview for sure," said Rockies manager Bud Black following the loss, as his team now has to fly to Chicago for the Wild Card Game against the Cubs on Tuesday. "The resiliency of this group has been awesome all year."
Nolan Arenado led off the ninth inning with a solo shot off Dodgers closer Kenley Jansen for his NL-leading 38th homer of the season and Trevor Story belted his 37th home run of the season as the Rockies went back-to-back to begin the ninth.
"What happened?" Jansen repeated when I asked him about the back-to-back homers. "We're first in the division, that's what happened."
Dodgers Kenley Jansen NL West 2018 Celebration Interview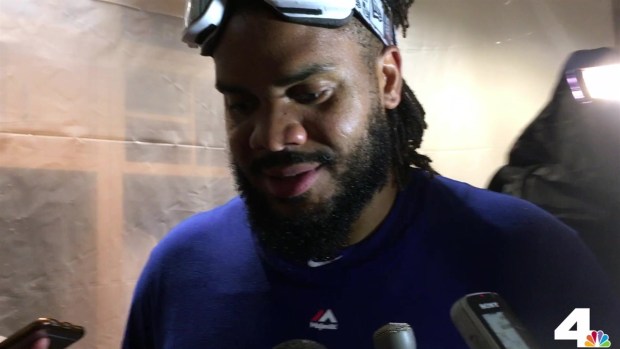 The Dodgers improved to 50-0 in games where they stake a four-run lead this season. They are the only team in MLB not to have suffered a loss when leading by four or more runs this year.
Fan Appreciation
The Los Angeles Dodgers broke Dodger Stadium franchise record for most attendance in a single season with 3,857,500, surpassing the team's 2007 total.
Thanks to the best fans in baseball, the #Dodgers set a franchise record for attendance this year at 3,857,500! pic.twitter.com/TSqgzunSGy

— Los Angeles Dodgers (@Dodgers) October 1, 2018
Up Next:
The Dodgers will host the Atlanta Braves for Game 1 of the NLDS on Thursday at Dodger Stadium. Clayton Kershaw is expected to start, with first pitch yet to be determined.
If you can't view the embedded videos, click "VIEW THE FULL MOBILE SITE" at the bottom of this page.