As fire crews on Saturday mopped up a 90-acre brush fire in the Sepulveda Pass, a blaze that broke out in Rustic Canyon spread to more than 30 acres.
Update, Sept. 16, 2012:Rustic Canyon Fire Smoldering, "No Active Flames"
Firefighters received reports of the fire at 12:28 p.m. in the 3000 block of Rustic Canyon Road (map), a residential area nestled in the rugged Santa Monica Mountains on the edge of Topanga State Park.
By about 5 p.m., the blaze was only 10 percent contained, but the "rate of spread" in heavy-to-medium brush was reported by the Los Angeles Fire Department to be slow to moderate. About 200 firefighters were working amid a punishing heat wave that saw temperatures in the area reach 105 degrees.
The road into the canyon leads to Rustic Canyon Ranch horse rescue, which operates on land owned by the Boy Scouts of America's Camp Josepho.
Cheyenne Price, the horse rescue's founder, said she and her employees and their 10 horses planned to evacuate as soon as firefighters would let them out. Firefighters were using the private road to fight the blaze, she said.
"They haven't opened the road for us to evacuate," Price said. "There's only one way in and one way out."
She said some 100 campers were at Camp Josepho, next door to the horse rescue.
In an emailed alert, Los Angeles Fire Department spokesman Brian Humphrey said.said "campers + staff at Camp Josepho are sheltered in place and NOT in harm's way."
The department said the campers were 2 miles from the blaze and would be safe overnight.
Fire officials were working with park rangers to locate hikers in the area who had expressed alarm at the blaze.
No homes wre threatened and no "formal" evacuations had been ordered, Humphrey said.
In a blog post, the department said "nearby residents are always encouraged to prepare for evacuation."
The blaze had spread from 5 acres to more than 30 acres at that time, and firefighters were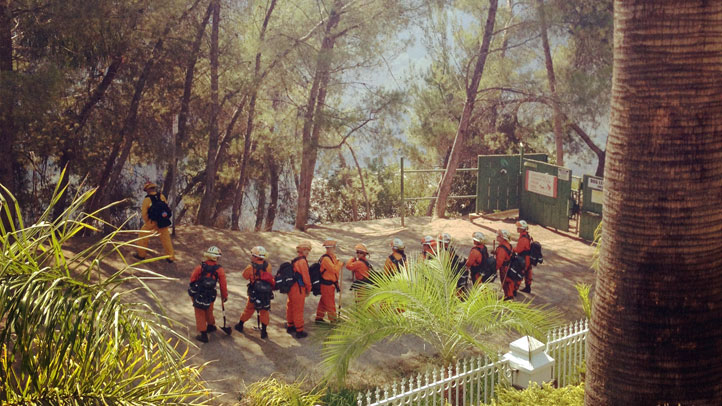 staging from Sunset Boulevard and Rustic Creek Lane (map).
Another 2-acre blaze broke out near Hansen Dam Recreation Area in heavy brush in Lake View Terrace Saturday afternoon. It was knocked down in about 45 minutes.
In San Diego County, a fire near U.S. Marine Corps Base Camp Pendleton has spread to about 500 acres after it started during a training exercise Friday. It was headed north toward the Cleveland National Forest.
A tall plume of smoke rose from the Los Angeles Harbor Area, causing many to think another fire had broken out. But fire officials said it was only a non-emergency flaring at the ConocoPhillips Refinery in Wilmington.
Fire crews were also mopping up what was left of the Sepulved Pass fire on Saturday and had the blaze 90 percent contained by 6 p.m., fire officials said. They expected to have that fire fully contained on Sunday and planned to be vigilant about hot spots overnight.
Photos: Super Scoopers Join Fight Against Sepulveda Fire
All roads but one into and out of the area were open on Saturday, Humphrey said.
Sepulveda Boulevard north was closed. Humphrey said that anyone trying to get to the Getty Center should call to find out about alternate routes before hitting the road.
The fire broke out at 3:30 p.m. Friday, just before the evening commute, east of the 405 Freeway near Getty Center Drive and Sepulveda Boulevard, above one of the nation's busiest freeway sections.
The cause of the fire was under investigation on Saturday, Humphrey said. There were no injuries and no damages reported, officials said.
The blazes came during a punishing heat wave that continued to have fire officials on alert for additional brush fires on Saturday.
Forecasters high temperatures to range from 98 to 108 in the valleys and the mid 90s to 104 across the L.A. County basin and low mountains.