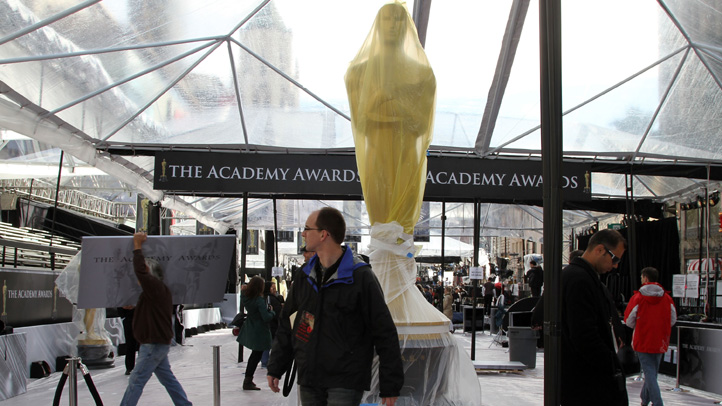 Update: Hollywood is entering the homestretch for Oscar road closures. On Friday, Hawthorn Avenue was shut down. Click here for a map of the closures.
---
With only a couple days until Hollywood's biggest night, locals must prepare for those annual street closures that surround the recently renamed Hollywood and Highland Center, formerly known as the Kodak Theater.
Local
Local news from across Southern California
Every year, authorities shut down streets and sidewalks around Hollywood and Highland center, where the 84th Annual Academy Awards are to take place on Feb. 26. The awards have been held there every year since 2000.
The first major closure begins this Sunday, Feb. 19, when authorities plan to close vehicle and pedestrian access to Hollywood Boulevard. Sidewalks on Hawthorn Avenue and Orange Drive will also be shut down.
But the bulk of the closures occur the day of the award show, starting at midnight.
Highland Avenue will be closed from Franklin Avenue to Sunset Boulevard, while the Hollywood Boulevard closure will extend to La Brea Avenue on the west and to Cahuenga on the East.
Yucca Street, which runs parallel with Hollywood Boulevard, will be shutdown from Wilcox Avenue to Highland Avenue.
Wilcox Avenue will be closed from the north side at Cahuenga Boulevard down to Sunset Boulevard.
Included with the street and sidewalk closures, police plan to close the northbound and southbound Highland Avenue 101-freeway off-ramps.
The Metropolitan Transit Authority plans on re-routing buses, while its trains will bypass the Hollywood Avenue station from the last regularly scheduled train on Feb. 25 until the first scheduled train on Feb. 27.
Most of the street shutdowns are expected to last through Tuesday, Feb. 28.
Follow NBCLA for the latest LA news, events and entertainment: Twitter: @NBCLA // Facebook: NBCLA