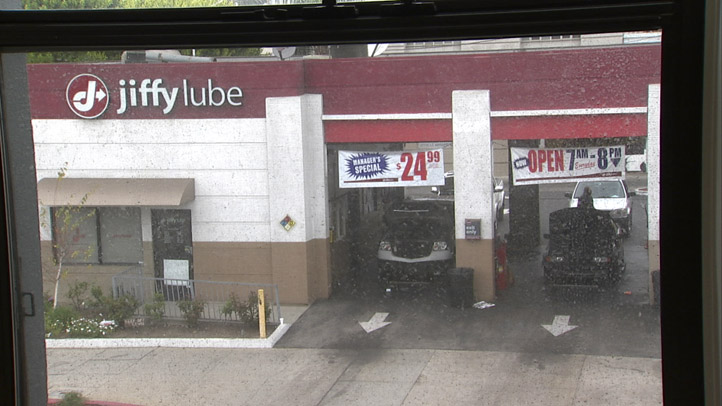 After an NBC4 I-Team report exposed overcharging and dishonest practices at several Jiffy Lube locations, we asked our fans on Facebook to tell us which mechanics they trust.
Some shared their own horror stories about experiences at Jiffy Lube and other auto shops. Many, however, swore allegiance to an auto shop they have gone to for decades and sang praises of their mechanics' integrity.
In the course of the I-Team investigation, hidden cameras recorded Jiffy Lube employees charging undercover customers for repairs that were never done, rigging diagnostic tests so they could say our car needed repairs, and pushing repairs automotive experts said were unnecessary.
Local
Local news from across Southern California
Jiffy Lube, owned by Shell Oil, is the single largest provider of automotive repairs in the nation. In Facebook comments, most of our fans praised family owned shops.
Click here to go to NBC LA's Facebook page to see our fans' suggestions and join the conversation.
NBC4 has not investigated any of these auto shops and cannot vouch for them.
"Our mechanic is absolutely the most trustworthy," wrote Patricia Truesdall. "We have been taking our cars and motorhomes to him for the past 15 years and never had a problem. He has been in business for 25 + years. Highly recommend Bruce Britton of Britton's Automotive in Huntington Beach 714-841-5701."
"Armando is my guy. Total trustworthy," commented Dan Joseph. "I sincerely appreciate his honesty and his workmanship by his team, some carried over from when it was owned by Barry as Consumer Tire. Now, with a new owner, it is called A&A Tires, Reseda. I say this with the respect that my family has gone to this location for automotive repairs for the past 30 years!"
"Hasbrouck Motorsports in Moreno Valley, Ca," commented Nicholas Gambino. "Larry Hasbrouck specializes in Honda and Acura repair. He is as honest as they come."
"Best place I've found is Burbank Auto Doctor, 1619 W. Magnolia, Burbank CA 91506," wrote Bob Wynne. "Ben is the manager and these guys are the real deal and as honest as you can get. My wife's and my car only go to Ben for service."
"Being a female and knowing absolutely nothing about cars....makes going to a mechanic quite scary," wrote Belinda Castaneda.
"But anyone in the Glendora, Azusa/Covina area....if you're looking for a safe place to take your car, my husband and I found a place that we LOVE dearly...it's family owned, and they only do what they tell you to do, and never ever try and rip you off. It's ToyoPros, and no....it's not just for Toyotas. My husband has a Kia & Nissan, and I have taken a Chevy and a Ford. They are wonderful, and I am so happy to have found them! http://www.toyopros.com/"
"Soledad Automotive in SCV ask for Dave. He's honest and inexpensive!" Andrew Klein commented.
"Hans Imports in Huntington Beach is the only place that gets my family's business," wrote Glen Robison. "They only fix what is actually wrong and charge fair prices. We have been going there for 20+ years."
"Williams Automotive in Ventura," wrote Kathy Roche. "I've been using them for years and I have to say they are honest and trustworthy. I recommend all my family and friends to them."
"I found the BEST mechanic in the SouthBay, Drulis Bro on Rosecrans at 405 frwy," wrote Melissa Freeman. "Honest people, never upsell and only do the work thats needed."
And Nelson Rodriguez offered the safest, or maybe just the most cynical, advice of all: "DONT TRUST ANYONE!"