What to Know
10-year-old Anthony Avalos died June 21 after his family said he suffered a fall, that was later deemed suspicious when he died.
His mother and her boyfriend were charged with murder and torture.
New documents reveal DCFS visited his home multiple times dating back several years.
The Department of Child and Family Services visited the home of Anthony Avalos, a 10-year-old who died after suspected torture and abuse, multiple times dating back several years, according to documents obtained by the NBC4 I-Team.
Avalos' mother, Heather Maxine Barron, 28, and her boyfriend, Kareem Ernesto Leiva, 32, were arrested and charged with torture and murder. Avalos died June 21.
The I-Team is combing through 339 pages released by DCFS. The documents highlight that the agency was aware of alleged abuse and had been at the home multiple times dating back several years.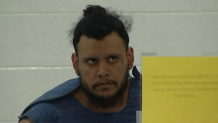 The documents also have repeated references to other children in the home being at risk and suffering from neglect.
The newly released report also documents multiple visits by social workers investigating emotional and physical abuse, and neglect.
There is at least one instance of sexual abuse that was substantiated dating back to February 2013.
In a previous report, the I-Team uncovered horrific new abuse claims in the case, including allegations that Avalos was repeatedly dropped on his head, slammed into furniture, whipped with a belt and a cord, had hot sauce poured in his mouth, was starved, and was not allowed to use a bathroom.