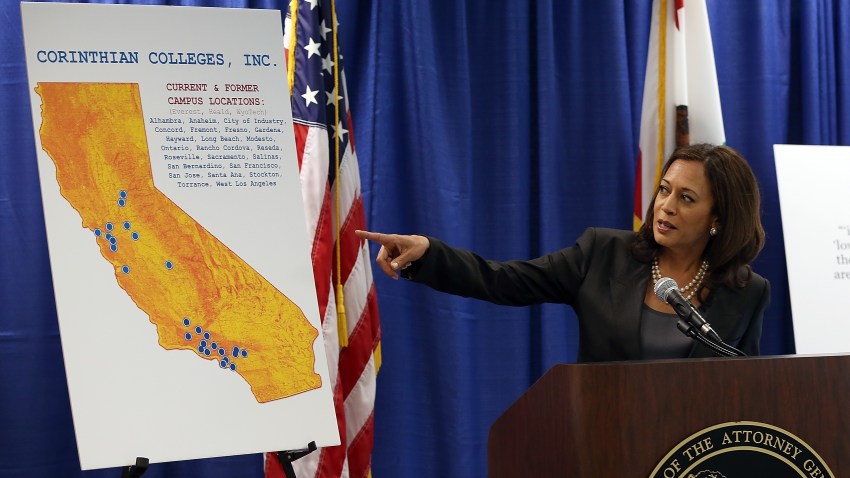 A new lawsuit targeting a large for-profit college operator accuses the campuses of intentionally misrepresenting job placement figures and engaging in false and predatory advertising.
California Attorney General Kamala Harris filed the lawsuit Thursday against Corinthian Colleges Inc. and subsidiaries that operate Everest, Heald and WyoTech colleges.
The lawsuit alleges that Corinthian Colleges Inc. (CCI) allegedly misrepresented its high job placement rates to lure low-income Californians whom the company described as "isolated," "impatient" and having "low self-esteem," the office of the attorney general said in a news release.
Local
Local news from across Southern California
Additionally, Harris alleges that CCI, which says it serves more than 81,000 students on 111 campuses scattered throughout the United States and Canada, intentionally misrepresented job placement rates to investors and accrediting agencies.
Harris called these actions "unconscionable" and "predatory," saying that CCI "targeted some of our state's most particularly vulnerable people--including low-income, single mothers and veterans returning from combat."
NBC4 Los Angeles contacted the college's public relations department and is awaiting a response to the lawsuit. One third of CCI's approximately 81,000 students attend campuses in California, and the average tuition for a CCI associate's degree is $40,000, according to a recent CCI securities filing.
The complaint alleges that CCI advertised job placement rates for specific programs as high as 100 percent when, in some cases, there is no evidence that any students from the specified time frame obtained a job.
The complaint goes on to say that although CCI never offered x-ray, radiology and dialysis technician programs at their California campuses, it ran millions of online and mobile ads advertising those courses.
CCI also allegedly illegally used official Army, Navy, Air Force, Marine Corps and Coast Guard seals in mailings and on websites without authorization.
"We were disappointed to learn today of the civil complaint filed by the California Attorney General," CCI spokesperson Kent Jenkins Jr. said in a statement. "We are committed to regulatory compliance and have robust processes in place to correctly record and disclose the job placement information we receive from our graduates and their employers."
Current or former CCI students who wish to file a complaint can contact the Attorney General's Office.
More Southern California Stories: