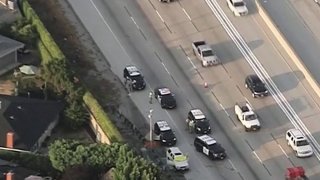 A 50-year-old Long Beach man found dead in an SUV on the side of the San Gabriel River (605) Freeway in Hawaiian Gardens appeared to have died from a self-inflicted gunshot wound, authorities said over the weekend.
The death was under investigation as an apparent suicide, the coroner's office said. The discovery was made at 5:14 a.m. Friday on the northbound 605 Freeway just south of Carson Street, California Highway Patrol Officer Tony Polizzi told City News Service.
Aerial video showed CHP officers on the side of the freeway near a SUV in which one person was found dead. Some lanes were closed for hours due to the investigation.