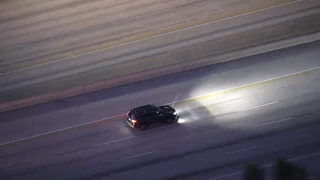 A driver in a suspected stolen Subaru was arrested Friday night after leading CHP on a fast and dangerous chase in LA County.
The driver pulled over at a gas station in Castaic where he surrendered to officers around 9 p.m.
Newschopper4 Alpha was over the chase around 8:33 p.m., but police had chased the driver hours earlier out of the Santa Monica area. Santa Monica police confirmed that the car had been stolen a day or two ago from a dealership in the area.
He blew through surface streets and was driving so erratically, the LAPD stopped following him.
At one point just before he gave up, the driver blew through a construction zone. He kept at speeds of 100 mph or more for a majority of the chase.