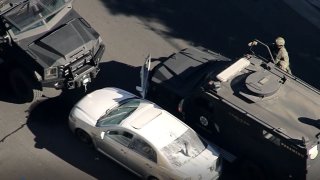 Deputies Thursday arrested an arson suspect who led them on a chase from the Lakewood area to a Paramount neighborhood, where a standoff ensued for about three hours before the man surrendered.
The chase led to the area of San Jose Avenue and Myrrh Street, where the car stopped about 8 a.m. on a narrow roadway with a number of patrol vehicles behind it.
A short time after the car stopped, a small fire could be seen inside the vehicle. A group of deputies approached the vehicle with a fire extinguisher and doused the flames, filling the car's interior with fumes, but the suspect remained inside.
Law enforcement vehicles then pinned in the car, preventing it from moving. The standoff continued until about 11 a.m., when the man surrendered. His name was not immediately available.
Copyright CNS - City News Service