Could the whole "Dumb Starbucks" thing just be an elaborate publicity grab? The man behind the Los Angeles sensation that is "Dumb Starbucks" revealed himself on Monday as the star of a Comedy Central show who insists he is committed to his bizarre parody business model.
Nathan Fielder, star of "Nathan For You," stepped out as the CEO of the coffee shop and addressed camera crews and curious Angelenos Monday afternoon outside his uber-popular storefront dubbed "Dumb Starbucks."
But the limelight might be fading for the parody shop now that the LA County Department of Health Services has slapped the store with a notice of closure for operating without a valid public health permit.
The store popped up seemingly out of nowhere in a Los Feliz strip center Feb. 7 in the storefront that once housed the now-defunct Gastronomico.
#DumbStarbucks was the top trending hashtag on Twitter in Los Angeles. The pop-up coffee shop took social media by storm as hundreds of Angelenos tweeted about their fascination with the "dumb" business, including some who waited in line for hours just to get a peek.
"As long as we're making fun of Starbucks, we're allowed to use their corporate identity," Fielder told the crowd.
Local
Get Los Angeles's latest local news on crime, entertainment, weather, schools, COVID, cost of living and more. Here's your go-to source for today's LA news.
Fielder's show, "Nathan For You," is a docu-reality comedy show in which Fielder uses his background in business to offer up new, non-traditional business strategies.
Despite the revelation of the Dumb Starbucks owner's comedy background, Fielder would not say whether the store was part of his show.
The show's slogan, "Real People. Real Business. Results Not Guaranteed" is in line with Dumb Starbucks' online fact sheet that maintains the store is, in fact, a real business.
But Fielder has been known to stage elaborate hoaxes, including a YouTube video showing a pig rescuing a baby goat -- which was actually staged with animal trainers and crew members. The video had more than 8 million views as of Monday.
The logo adorning the Dumb Starbucks storefront and coffee cups is that of the actual Starbucks, but with the word "dumb." The same protocol applies to the entire menu, down to the "dumb" tall, grande and venti sizes.
The imitation coffee chain, aware of its mind-boggling business model, claims its existence at 1802 Hillhurst Avenue is allowed thanks to "parody law" in a Frequently Asked Questions list posted via Twitter.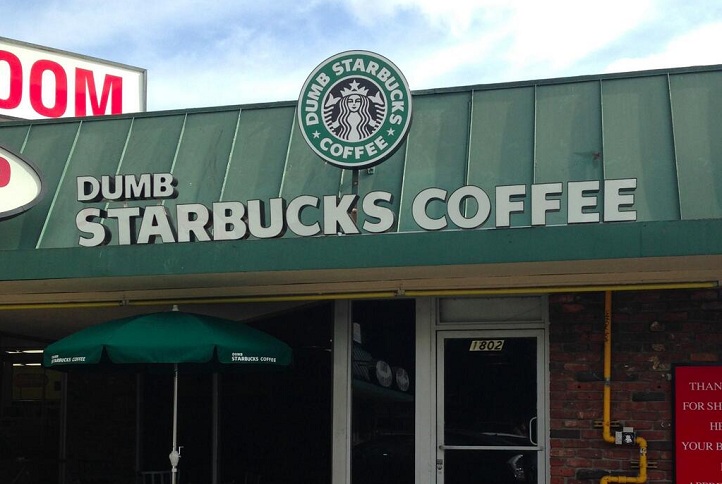 "By adding the word 'dumb,' we are technically 'making fun of Starbucks, which allows us to use their trademarks under a law known as 'fair use.'"
The FAQ goes on to explain, "Although we are a fully functioning coffee shop, for legal reasons, Dumb Starbucks needs to be categorized as a work of parody art ... But that's for our lawyers to worry about. All you need to do is enjoy our delicious coffee!"
Confused yet curious consumers took to Twitter as they lined up outside the coffee shop in question on Saturday and Sunday.
"Are your dumb coffees still free today?" @LukeOneil47 asked.
"That does it, I'm opening a parody coffee shop called 'Not Dumb Starbucks," @Abobrow said.
"'It may be fake but the work is real' (overheard from the dumb Starbucks baristas),'" @TheBrockyRoad tweeted with a picture of an employee complete with a green apron and black hat with the logos for - you guessed it - Dumb Starbucks.
Fielder <a target="_blank" href="http://">explains in a YouTube video how he was able to market "Dumb Starbucks," and describes the stunt as "a real business I plan to get rich from." Watch below: