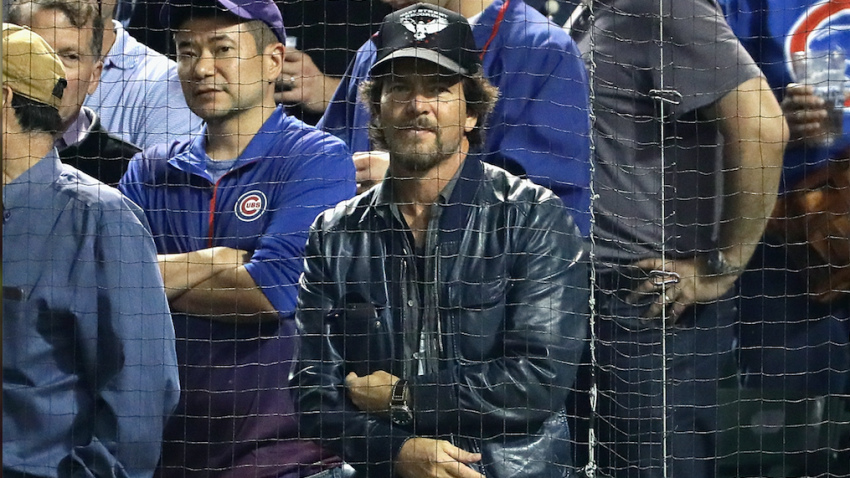 The Cubs finally did it. After 71 long, aggravating years, the Chicago Cubs are headed back to the World Series after defeating the Los Angeles Dodgers, 5-0, on Saturday night in Game 6 of the NLCS.
After the victory, Cubs fans poured into the streets surrounding Wrigley Field to celebrate and the ones inside the stadium refused to leave as they cheered, cried, and jumped for joy in exultation.
Among the Cubs faithful are celebrities that hail from Chicago. Some of these famous fans you already know like actors Bill Murray and John Cusak. Singer Eddie Vedder of Pearl Jam is a huge Cubs' fan, as are comedians Jim Belushi, Bob Newhart and Julia Louis-Dreyfuss.

Athletes from the White Sox, Blackhawks and even Scottie Pippen were all rooting on the Cubs, and famous sports writer and host of ESPN's PTI, Michael Wilbon, is perhaps the biggest fan of them all.
Local
Local news from across Southern California
Each and everyone showed their support and congratulated their team on Twitter. Take a look:
Congrats to the NL Champs pic.twitter.com/sbHuSJjtxX — Chicago White Sox (@whitesox) October 23, 2016
Congrats, @Cubs! Good luck in the #WorldSeries! Chicago is ready to #FlyTheW! pic.twitter.com/Dzp5FtQON0 — Chicago Blackhawks (@NHLBlackhawks) October 23, 2016
Congratulations to the @Cubs for advancing to the #WorldSeries. #Respect — Los Angeles Dodgers (@Dodgers) October 23, 2016
@Cubs are in the World Series.@Cubs are in the World Series.@Cubs are in the World Series.@Cubs are in the World Series.
Very Good. — Nick Offerman (@Nick_Offerman) October 23, 2016
Yes !"@notjenia: It feels like Christmas when you finally got the one present you always wanted. #Cubs #WorldSeriesBound #flythew" — John Cusack (@johncusack) October 23, 2016
That's Eddie Vedder on somebody's shoulders in Cubs clubhouse. Gonzo time. pic.twitter.com/RCtjXWov8g — Michael Silverman (@MikeSilvermanBB) October 23, 2016
They did it!!!!! #FlyTheW @Cubs — jake johnson (@MrJakeJohnson) October 23, 2016
Yeah! Yeah! Yeah! #GoCubsGo @Cubs https://t.co/8dyy15FpBC — Julia Louis-Dreyfus (@OfficialJLD) October 23, 2016
That look when you cap off a day on the trail by watching the @Cubs cement their trip to the #WorldSeries. #FlyTheW pic.twitter.com/94KMWpKHwe — Nick Merrill (@NickMerrill) October 23, 2016
I'm in Seattle with my grandkids. I forgot my W flag, so my grandkids made me one. Isn't it beautiful! #GoCubsGo #FlyTheW pic.twitter.com/SyhTCz1de4 — Bob Newhart (@BobNewhart) October 23, 2016
CUBS WIN! CUBS WIN! https://t.co/Q1oyqygFyK — Joe Mantegna (@JoeMantegna) October 23, 2016
World Series!!! 4 more to go @Cubs. This city is ready for another championship. #FlyTheW — Scottie Pippen (@ScottiePippen) October 23, 2016
Play Ball! https://t.co/c7EWCOVwAK

Thanks, @JimBelushi! pic.twitter.com/dJacogYD0n — Chicago Cubs (@Cubs) October 23, 2016
What a performance in 7 plus innings by Hendricks...under that kind of stress and pressure....2 hits allowed...can't get more clutch... — Michael Wilbon (@RealMikeWilbon) October 23, 2016