Weather watchers reported heavy rain, flash floods and a mud slide in the Inland Empire, which was hit with rare summer thunderstorms during severe weather Friday afternoon.
More wicked weather is expected during the weekend. A flash flood watch was issued Friday night, effective Saturday afternoon through evening for Riverside and San Bernardino counties, including the mountain areas, the Apple and Lucerne valleys, the Coachella Valley and the San Diego County deserts.
Earlier Friday, there was a massive mud flow through the community of Forest Falls, between Yucaipa and Big Bear City in the San Bernardino Mountains.
Local
Local news from across Southern California
"It was like a freight train coming through town," resident Jeff Miller said. "It just came down the creek and kind of blew up. ... It was a wall of mud coming down. You wouldn't want to be in front of that. It was pretty scary."
Another resident said the flow was so loud and powerful that "the whole ground was shaking."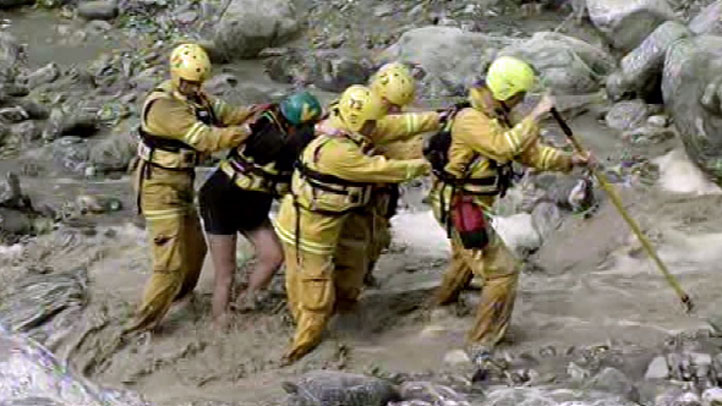 Residents said they heard what sounded like a "freight train" coming down the mountain. Trees and rocks came down the creek within the mudflow, those who witnessed the event said.
A woman and man who were hiking got caught on the other side of the creek during a sudden flow. Firefighters completed a shallow-water rescue to bring the woman to safety. The man was able to get back across on his own.
"We got stuck on the other side, and I just jumped over," said Kyle Powers. "I came across, she got stuck."
"Anytime that you see storms building in the mountains above a creekbed, you want to be clear of any low water crossings," San Bernardino County Fire Battalion Chief Kathleen Oplinger said.
Heavy flooding and many mud slides affected nearly the whole town. Vehicles were stuck in the mud, which was also keeping people stuck in their homes, according to the San Bernardino County Fire Department.
The community is used to flooding during heavy rain, Kristen Anderson of the fire department said.
Aerial video showed a swift-water rescue through rapidly flowing Mill Creek, which runs through the small community and flows into the Santa Ana River.
In Lake Elsinore and Yucaipa, heavy rain pelted residents.
Flash flood warnings had been issued Friday for Riverside County through 4:15 p.m., and San Bernardino County through 4:30 p.m.
Weather Resources: Forecast | Severe Weather Alerts | Maps and Radar
"Excessive runoff from heavy rainfall will cause flooding of small creeks and streams (and) highways and underpasses," the National Weather Service had warned. "Country roads and farmlands along the banks of creeks (and) streams and other low lying areas are subject to flooding."
The NWS warned drivers to avoid water-soaked roadways.
"The water depth may be too great to allow your car to cross safely. Move to higher ground," according to the NWS alert.
Send Us Your Weather Photos: Upload from Web | Send Email | Instagram Tag: #socalgram
View more videos at: http://nbclosangeles.com.
View more videos at: http://nbclosangeles.com.
Follow NBCLA for the latest LA news, events and entertainment: iPhone/iPad App | Facebook | Twitter | Google+ | Instagram | RSS | Text Alerts | Email Alerts