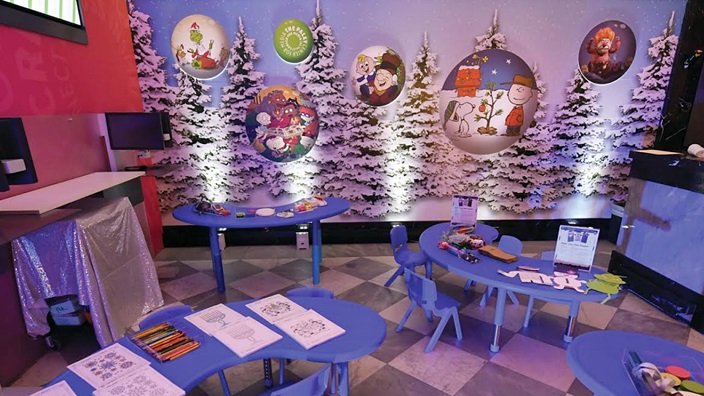 If you see a film at the cinema nowadays, and you love it, and you tell everyone about it, and you plan to go back to see it again, chances are pretty strong that one day, in the near future, you'll eagerly revisit this movie on the small screen, when it makes its broadcast or streaming debut.
But the opposite isn't true for television shows, especially those of the past. They start on the small screen, and there they firmly stay, forever, while we're consigned to watch them, again and again, from our homes.
This isn't a bad thing, of course, as we're usually while wearing feetie pajamas and eating pizza.
Local
Local news from across Southern California
The Paley Center for Media is about to turn that paradigm on its head, though, and send a few television classics to the bigger screen for a short time, breaking these treasures out of the only format they, and we, know. It's Holiday Time in PaleyLand, and a stocking's worth of classic Christmas TV specials are airing in a theater setting in Beverly Hills every Wednesday through Sunday.
That is, through Sunday, Jan. 8, so make for the television institution as fast as Rudolph flies in order to enjoy "Santa Claus Is Comin' to Town," "Frosty the Snowman," "A Rugrats Kwanzaa," and several other favorites played large.
For sure, "Rudolph the Red-Nosed Reindeer" is on the fa-la-la'd roster, and "Dr. Seuss' How the Grinch Stole Christmas" will screen, too.
Other surprises are in store, like Santa visits (on select days, so review his schedule) and "special holiday activities" like "ornament making, puppet making, and FREE hot cocoa!"
Oh yeah, three nice words in row. Consider, for a moment, how often you sipped hot cocoa at home, while enjoying The Grinch or a Rankin-Bass special, specials you've only seen on television.
Isn't it time you take in these ultimate classics in an expansive format?
After all, movies have the ability, nowadays, to jump from theater to home. Why shouldn't some of those TV shows we all know by heart, every word, every snowflake, every hug, make a similarly grand jump to big-screen greatness?
Most importantly, will the Bumble be even scarier when he's so much bigger? And if you do make for The Paley Center, and you cheer on Rudolph and his pals as they square off with the famous snow monster, and you're actually not wearing your feetie pajamas while doing so, will it be a first?
Copyright FREEL - NBC Local Media