Girl Scouts of Greater Los Angeles and Girl Scouts of the USA revealed 42 new badges Tuesday that will allow girls to make their own choices about how they want to experience and influence the world around them.
The badges are exclusively for girls in grades K-12 and although Girl Scouts is known for supporting young girls in high-adventure and STE(A)M activities, these new badges and programs encourage them to step out of the box most girls are put in. It is set to encourage them to take action and work toward realizing their dreams.
"We do this by granting girls access to skills, unique experiences, and a supportive, inclusive network," said Senior Manager of Communications, Melanie Larsen.
Young girls are able to earn badges in multiple areas such as outdoor, coding, space science and many more. One of the new offerings is the "Outdoor High Adventure" badges that will allow girls two activity options, something that is being done for the first time in Girl Scouts' history.
Allowing the girls to choose which badges they want to earn is a way to develop their sense of self and their own voice, according to Girl Scouts. The badges also align with the organization's long going girl-led programming that offers girls everything from adventure to learning how to code.
"These new badges are exciting for a variety of reasons — not only are girls being introduced to new skills in STEM and high-adventure, they are being challenged to use those skills for good," Larsen said.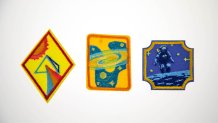 Girl Scout programming has long promoted independent decision making, which helps girls develop what they call "agency." It also allows them to challenge themselves to move beyond their comfort zones, and build confidence in their leadership abilities.
"They can take risks to try something new — sometimes even fail — then get back up and try again," Larsen said. "They learn to embrace challenges — a soft skill necessary when pursuing a career in an underrepresented field."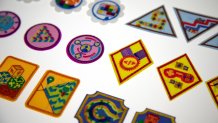 Girls have the opportunity to choose from 12 outdoor high adventure badges which includes activities such as backpacking, cross-country skiing, rock climbing and more. They also can choose from 18 new "Coding for Good" badges which involves activities like learning the basics of coding and algorithms. They can even design a digital game to educate people about an issue, or develop an app.
For those in grades 6-12 there will be nine new Cybersecurity badges, three Space Science badges and a "Think Like a Citizen Scientist" badge. Girls with a high interest in computer science will be able to join Girl Scouts launching of "Cyber Challenge" event at UCLA on Oct. 19, where girls learn crucial cybersecurity skills, according to the program.
Over all, the new badges and programs want to break new grounds for girls so they will not only have new options but will be able to learn about new possible careers and new ways to create change in their communities.
"Girls are supported to not just make a mark on the world, but to make a difference," said Larsen.
To join, volunteer, or support, visit GirlScoutsLA.org or call 213-213-0123.