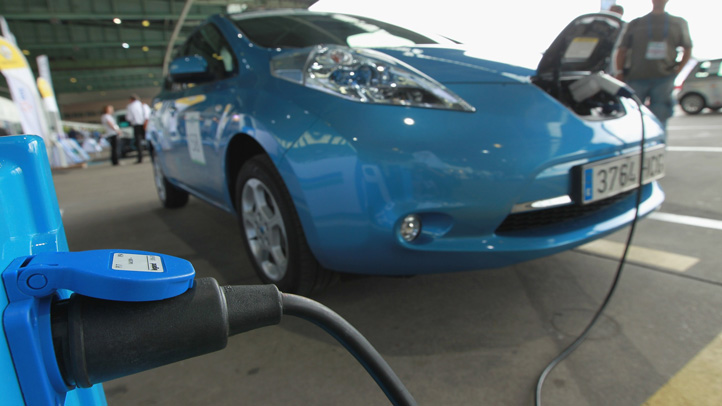 There's an ad for the LA Auto Show that welcomes visitors to experience an "electric runabout" from Detroit that proclaims the car the "sensation of the show."
LA Auto Show: Previews, Images | Map: "Alternative Fuel" Stations

But it's not an advertisement for the 2011 show. It's for the 1909 LA Auto Show, an event confined to the basement of Hamburger's Department store.
Local
Local news from across Southern California
Two cars at the first LA Auto Show two years earlier also were electric. About 3,000 people showed up at Morley's Skating Rink on Grand Avenue to see the latest in personal transport -- the majority of which was powered by gasoline.

It's easy to think of electric, hybrid and non-petrol "alternative fuel" cars as newcomers to the automotive industry. But in the early 1900s, gasoline was in competition with electricity, steam and other sources as the fuel of choice.
Technically, the horse was in the running, too.
Eventually, gasoline powered the automobile and the country's wanderlust through the remainder of the century. It offered power, came at a relatively reasonable price and benefited from necessary infrastructure.
But it wasn't as if people just gave up on alternative ideas as the decades passed. In 1917, a Chicago company built a gas-electric hybrid called the Woods Dual Power. In the late 1950s, the Studebaker-Packard Astral was a design that offered the thrill and Cold War-era mystique of atomic power.
Related: Lessons from the Past, Inspiration for the Future
And in 2011, almost every automaker has a vehicle in its lineup -- usually with an "e" or "i" attached to its name -- that does not solely rely on gasoline. More than 70 new "green vehicles" will be on display at the LA Auto Show, starting Friday.

The number of show vehicles that use some form of electrification has increased 25 percent since last year. Some cars, like the Nissan Leaf, run only on electricity. Other vehicles have hybrid systems that use some combination of gas and electricity.
"I think we'll eventually reach a point where there are no more green vehicles because nearly all vehicles will employ some sort of highly efficient powertrain," said Jeff Glucker, of Southern California auto blog Hooniverse.com.
And, vehicles that rely on gasoline also are part fo the "green" conversation. A switch won't be flipped tomorrow that turns everything on the road into an affordably priced vehicle that runs on an unlimited zero-emission fuel readily available when and where it's needed.

So automakers have turned to technology that uses gasoline more efficiently. The number of vehicles on display that can achieve more than 40 miles per gallon of gas or diesel has doubled since last year's show.
"It's a matter of having your cake and eating it, too," Glucker said. "We still want to have the power, but there is an understanding that we need to be more efficient. And, automakers understand that."
Here's a brief rundown of some of the technologies you'll see at the 2011 LA Auto Show:
Hybrids: The benefits of gasoline and electricity in one package. An electric motor typically assists the engine, allowing use of a smaller, more efficient engine. Under some conditions, such as low-speed city driving, the electric drive alone powers the vehicle. These vehicle also take advantage of technolgies like automatic stop/start and regerative braking -- power usually wasted under braking is stored in the battery until needed. They usually cost more than base-model gasoline models.
Examples at the LA Auto Show: BMW ActiveHybrid X6 and i8 Concept; Buick Lacrosse eAssist and Regal eAssist; Cadillac Ciel Concept and Escalade Hybrid; Chevrolet Malibu Eco and Tahoe Hybrid; Ford Fusion Hybrid; GMC Yukon Denali Hybrid and Yukon Hybrid; Honda Civic Hybrid, CR-Z Sport Hybrid Coupe and Insight; Hyundai Sonata Hybrid; Infiniti M35 Hybrid; KIA Optima Hybrid; Lexus CT 200h, GS 450h, HS 250h, LS 600h L, EX 450 h; Lincoln MKZ Hybrid; Porsche Cayenne S Hybrid and Panamara S Hybrid; Toyota Camry Hybrid, Highlander Hybrid and Prius Hybrid; and the Volkswagen Toureg Hybrid.
Plug-In Hybrids: These hybrids can be plugged into a electric outlet or charging station. In some, only the electric motor powers the wheels and the gasoline engine generates electricity. Vehicle cost remains an issue, and consumers need to weigh that against such benefits as lower fuels costs and greenhouse gas emissions.
Examples at the LA Auto Show: Chevrolet Volt; Ford C-MAX Engergi Plug-in Hybrid; Toyota Prius Plug-in-Hybrid; Honda Plug-in Hybrid Concept
All-Electric Vehicles: EVs have shorter ranges, and the range varies depending on the car, but manufacturers typically target a 100-mile minium. That's fine for most trips to the grocery store, school, work and othe errands. They produce no emissions, although the same cannot be said for the plant that produces the electricity used to power the vehicle.
Examples at the LA Auto Show: Nissan Leaf, Mitsubishi i, Ford Focus BEV Prototype, DOK-Ing XD, CODA Sedan, BMW i3 Concept, Toyota RAV4.
Hydrogen Fuel Cell: When automakers want to know whether a car will work in the real world, Southern California is a good testing ground. A limited number of FCXs are being leased in the region. The vehicle -- in a complicated process that requires diagrams to explain -- converts hydrogen to electricity that's used to power the front wheels. It's encouraging to think about the simplest and most abundant element in the universe powering a car, but there are challenges when it comes to efficiently producing hydrogen from water, hydrocarbons and other organic matter
Compressed Natural Gas: An alternative fuel that flies under the radar. We're used to seeing those diamond-shaped blue CNG stickers on buses, but Honda has a CNG version of its popular and competent Civic -- the Civic Natural Gas. The United States has an extensive natural gas distribution network and there are more than 100 public refueling stations in California, but availability in other parts of the country would need improvement. The Civic NG costs more than the gasoline-powered Civic. It's a finalist for Green Car of the Year at this year's LA Auto Show.
E85 Vehicles: Produced by blending 85 percent ethanol and 15 percent gasoline. Several automakers offer vehicles designed to run on gaoline, E85 or a mixture of the two. E85 delivers lower gas mileage and its cost varies depending on where you live.
Examples at the LA Auto Show: Chrysler 200 and 300 E85, Chrysler Town and Country E85, Dodge Avenger E85, Dodge Challenger and Charger E85, Dodge Durango, Caravan and Journey E85, Jeep Grand Cherokee and Wrangler E85.
High-Efficiency Engines: These petrol-powered cars get 40-plus mpg by using various technologies to improve fuel economy.
Examples at the LA Auto Show: Audi A3 TDI (diesel); Chevrolet Cruz Eco and Sonic; Ford Fiesta SFE and Focus SFE; Honda Civic HF; Hyundai Accents, Elantra and Veloster; KIA Rio; Mazda 3 SKYACTIV; Volkswagen Golf TDI, Jetta Sportwagen TDI, Jetta TDI and Passat TDI.
The 2011 LA Auto Show is scheduled for Nov. 18-27.
Related: Alternative Fuels Pros and Cons
Follow NBCLA for the latest LA news, events and entertainment: Twitter: @NBCLA // Facebook: NBCLA