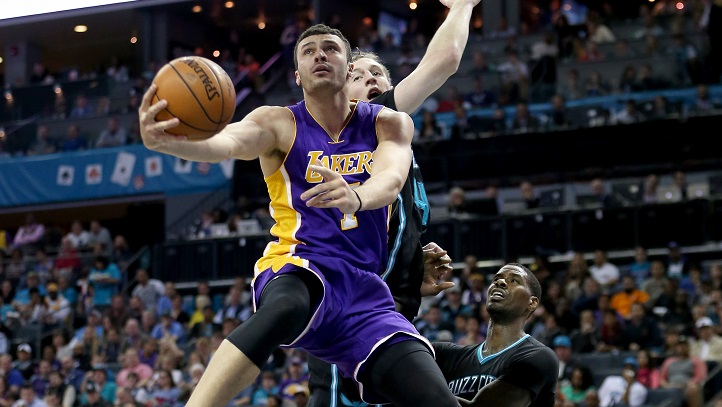 On Tuesday, the Los Angeles Lakers welcome the Golden State Warriors to Staples Center, and NBCLA.com caught up with Lakers coach Byron Scott after Monday's practice in El Segundo to get clarity on how the coach approaches the dynamic between rookie Larry Nance Jr. and second-year Julius Randle at the power forward position.
Does Scott enter each game expecting to evenly split time between his two young, developing players?
"I just play it by ear depending on how they're playing," Scott said before sharing more depth about his coaching philosophy.
Local
Local news from across Southern California
"The only thing that I try to stick to, as far as the script, I've always been a firm believer that if you start a game, you should finish it—for the most part," the Lakers' coach continued. "There's [sic] been certain instances where guys that have been off the bench played extremely well that I will leave them in that last five or six minutes in the game. But like I said, I've been a firm believer with Larry, the way he's been playing. He ends the game because of the way he plays."
Does Scott think Randle understands the coach's philosophy with regards to starters finishing games, seeing as Randle's frustrations generally derive from being pulled out of games in the fourth quarter?
"No, I haven't told him that," Scott smiled.
Instead, the coach publicly advised Randle to "Grow up" and pegged the frustrations and stormy attitude on immaturity. Nance, meanwhile, has surpassed expectations and draws consistent compliments from his coach.
On the topic of the 23-year-old Nance, Scott said, "I think if you were probably to re-do the draft, he'd be a lottery pick."
"So obviously, we got a steal at (draft pick no. 27) with him," the coach continued speaking glowingly about his rookie power forward. "When we brought (Nance) in, we really thought his athleticism was off the charts and his basketball I.Q. was off the charts. Each game, he seems to get better on both ends of the floor and seems to be playing with a lot more confidence."
Over his past five games, Nance is averaging 11.6 points and 10.4 rebounds in 25 minutes as a starter. Randle is averaging nearly the same numbers in terms of 10.4 points and 10.4 rebounds over his past five games in only 21.8 minutes as a reserve.
According to Scott, Nance is far ahead of Randle on the defensive side of the ball, which the coach credits to extra time spent at the college level. Randle left after only one year at Kentucky, while Nance played all four years at Wyoming.
Currently, Nance is the Lakers' starting forward, while Randle is fighting for minutes with the second unit. On Sunday, Randle only featured for 16 minutes and did not appreciate the lack of playing time or being singled out for his defense in the fourth quarter.
"I played 15 minutes yesterday," Randle still sounded ticked off on Monday. "I was frustrated--14-15 minutes, I was frustrated I wasn't on the court—Simple."
When told that his coach wanted him to be less emotional about getting taken out of games, the 21-year-old responded, "Basketball is an emotional sport. I'm going to feel some type of way about it. But like I told you guys all the (other) times, it's not in my control. Regardless, I'm going to feel frustrated, happy whatever it may be, basketball is an emotional sport."
The Lakers and Warriors tip-off at 7:30 p.m. at Staples Center. Randle and Nance could even appear on the court at the same time for a change, as Scott hinted that the matchup with versatile forward Draymond Green could lead to interesting lineup combinations.