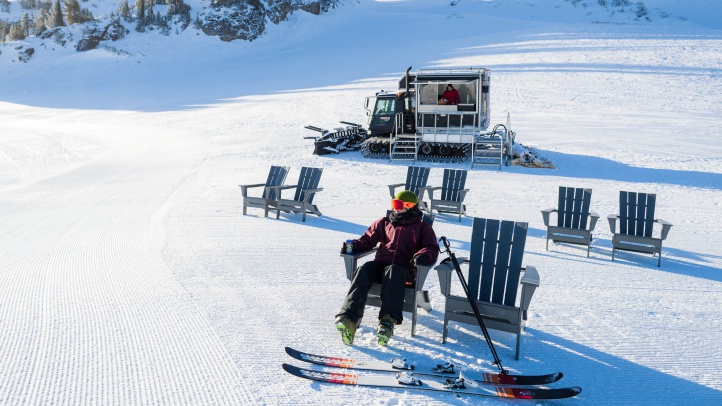 What to Know
Mammoth Mountain
Find at the top of Chair 2 or 10 (usually)
Snacks, beer, and wine
Food trucks lined up outside of your office building? The kind of large vehicles that happen to arrive with taco makings and hamburger fixings and all of the the nummy bites that lunch-seekers so desire?
They're a fixture throughout Los Angeles and beyond, common noontime sights on our most major thoroughfares, and at studios, and at festivals, and pretty much everywhere else, too.
Not seen, however, is the food snowcat, which makes sense, as Southern California doesn't receive frozen precipitation in any regular way.
Local
Local news from across Southern California
But Mammoth Mountain does, hoo boy. And the Sierra ski resort also happens to have lots of skiers and snowboarders who also hanker for a slope-close snack or sip, after a few hours of schussing or riding.
Which is all leading to this: The Bar Crawler, a food snowcat, which is much like a food truck, but in the snow, just debuted at the busy, brrr-ful destination.
It's a weekends-only pop-up, usually found near the tops of Chair 2 or Chair 10, and it boasts "snacks, refreshments, beer, wine, and plenty of fun."
Oh yes: There are lounge chairs, a few of them, scattered near the snowcat, which has been fully converted to serve food.
So find a seat, nearby, should you want to savor your snack or beverage for a few minutes, before returning to all of the flake-flying downhill action.
Keep in mind that the Bar Crawler can, well, crawl around, as snowcats are known to do. If it isn't in its usual spot, it may be at a special event or elsewhere around the mountain.
But the Bar Crawler isn't the only new food-truck-y sight at Mammoth Mountain as 2019 begins. Look also for the stylish LunchBox, an old-school Airstream that's "... serving up hot, gooey, delicious cheesesteaks."
Follow the savory scents to "the bottom of Chair 4" for your cheesesteak or veggie option, and, of course, drinks, too.
Copyright FREEL - NBC Local Media