Opening statements began Monday in the trial of Ryan Roth, one of two defendants accused of murdering a father who took his 15-year-old son to buy a cellphone advertised on Craigslist.
The 2013 slaying of Rene Balbuena, 41, took place in South Los Angeles after he responded to an ad for a $300 Samsung Galaxy that his son found on the popular site.
Balbuena was allegedly ambushed by Roth, who was 17 at time, and Markell Thomas, who was 18 at the time, during the would-be transaction where Roth allegedly shot the father several times in front of his son.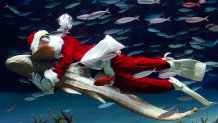 Both teens were charged by the LA County District Attorney's office with one count of murder, attempted murder, robbery with special circumstances and gang allegations.
The elder of the two was charged as an adult and both pleaded not guilty in 2013.
Thomas reached a plea deal with prosecutors and is set to be sentenced Oct. 1.
[DO NOT USE u002du002d- NATL-LA GALLERY UPDATED 12/30] 2015 Southern California Images in the News