A parolee who led police on a wild chase through Orange County on Monday, culminating in a struggle with a police dog that lost teeth while taking down the suspect, was charged Wednesday with multiple felonies.
Antonio Padilla Jr., 37, of Palm Desert, is charged with aggravated assault on a peace officer, carjacking, assault with a deadly weapon, injuring a police dog, driving recklessly during a police pursuit, leading police on a chase and driving the wrong way in traffic, along with three misdemeanor counts of hit-and-run with property damage.
Padilla is a "third-striker" with prior convictions for robbery in 1998, making criminal threats in 2006, unlawful possession of a gun in 2007, burglary in 2011 and inflicting corporal injury last year, according to the criminal complaint.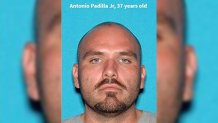 Padilla -- who faces up to 120 years to life in prison if convicted as charged -- had surgery on his arm Tuesday and remains under guard. He cannot be arraigned until doctors clear him for release from the hospital, said Senior Deputy District Attorney Paul Chrisopoulos.
The Santa Ana police canine that helped arrest Padilla, an 8-year-old Dutch shepherd named Puskas, underwent surgery at a veterinary hospital and was allowed to go home with his handler Tuesday night to continue recuperating, said Santa Ana police Cpl. Anthony Bertagna. The canine lost all his upper and lower teeth, with the exception of his canine teeth, during the confrontation with the suspect, but is expected to return to work in a couple of weeks, he said.
Padilla had been wanted since Feb. 18. He was pulled over for speeding that day by a Garden Grove police motorcycle officer. As she was writing him a ticket, Padilla punched the gas and veered toward the officer, who leapt to safety, Chrisopoulos alleged.
Local
Get Los Angeles's latest local news on crime, entertainment, weather, schools, COVID, cost of living and more. Here's your go-to source for today's LA news.
Padilla was on post-community release supervision at the time for domestic violence, so it is possible that if he had just taken the citation, he would have received a "slap on the wrist," but he compounded his legal problems by driving away, the prosecutor said.
The Garden Grove officer had the suspect's driver's license and registration, which investigators used to track down Padilla and place him under surveillance. On Monday, Santa Ana police officers were asked to pull him over and make the arrest because the Garden Grove officers were in unmarked cars, Bertagna said.
Padilla refused to pull over and led police on a high-speed chase into Irvine, where he abandoned his pickup truck and alleged carjacked a woman's Audi SUV before being taken into custody, authorities said.
The Audi's driver and her brother just avoided being struck by the carjacked vehicle as Padilla sped off, said Garden Grove police Lt. Carl Whitney. Minutes later, the Audi jumped a curb, hit a tree and soon after became disabled near the intersection of Kelvin and Derian avenues, where Padilla ran from the SUV and was arrested after a brief struggle with the police dog, Whitney said.
Copyright CNS - City News Service