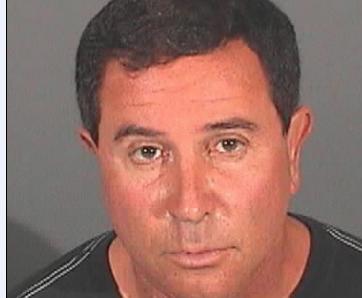 Redondo Beach Police want folks to take a good look at the mug shot of John Haig Marshall. Investigators think the Redondo Beach man may have been raping unsuspecting men in the South Bay for the past 30 years.
The case broke wide open when Marhsall was arrested for allegedly drugging and raping a male acquaintance in late September of this year. Police went through Marshall's home during their investigation and "recovered a significant amount of evidence" pointing to possibly more victims.
Police announced Tuesday they are now searching for possible other victims of the 53-year-old Marshall
Local
Local news from across Southern California
"Marshall was arrested by detectives and booked at the Redondo Beach Police Department on charges of rape using
an intoxicating substance. After Marshall's arrest on Thursday, October 8, 2009 a search warrant was served at Marshall's residence.
"Detectives recovered evidence from Marshall's home that corroborated the victim's account of what transpired during the
alleged sexual assault. Marshall was released from custody on a $100,000 bail bond. This incident is not the first time that Marshall has come to the attention of the Redondo Beach Police Department.
"Marshall served a brief stint as a reserve police officer for the City of Redondo Beach in the early 1980's. Marshalls reserve officer status lasted only nine months, ending with his resignation. Since his resignation in 1981, Marshall has had no connection to the Redondo Beach Police Department. Police have received information on several occasions over the past ten years alleging that Marshall has been involved in drugging and sexually abusing other male victims spanning across the last thirty years. No charges have been filed related to any previous allegations against Marshall.
"Police are actively searching for others that may have been victimized by Marshall, despite how long ago any abuse may have occurred. Anyone that feels they may have been victimized by Marshall or can provide information related to this
investigation is asked to call Detective Denise Brenner at (310) 379-2477, Ext. 2320," according to a news release issued Tuesday by the Redondo Beach Police Department.