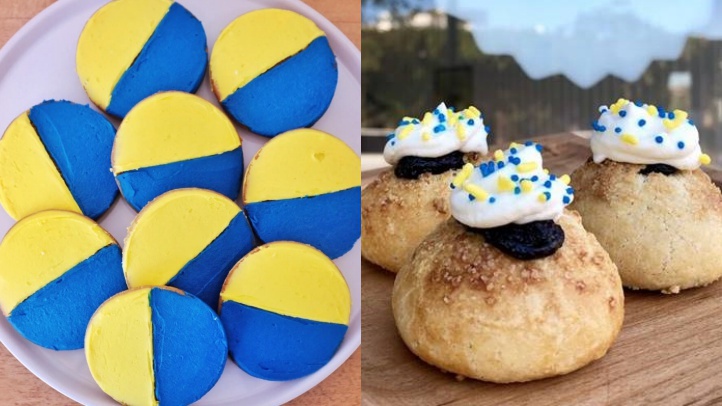 What to Know
The Pie Hole's blueberry crumble Rams pie holes
Cake Monkey Bakery's Rams cookies ($2.50 each)
Randy's Donuts Rams doughnuts ($2.65 each)
Sizing up the size of your coffee table? Or any flat and empty surface that's near your television?
A lot of soon-to-be party hosts are doing that this week, as Super Bowl LIII draws near. After all, if you're in Southern California, you'll be welcoming a lot of friends sporting their blue-and-yellow jerseys on Feb. 3, and those friends will want to nosh before, during, and after the big game.
Which means you'll need space on your coffee table for the nachos, for the pizza bagels, and for, you got it, the all-essential dessert items.
Local
Local news from across Southern California
A few frosting-lush, sugar-sparkly spots around Los Angeles are responding to the need to fill the dessert space on your TV-close coffee table, with sweets, specifically Rams-themed goodies.
Take a look at some of the spots now baking up the gold-and-blue bites...
Randy's Donuts is one of the biggies, thanks in (literally) large part to the fact that the famous Inglewood bakery repainting its iconic rooftop doughnut to reflect its Rams support. But down below, under the giant doughnut, and inside the sweet shop? There are Rams doughnuts to buy, in blue and gold colors, and they're $2.65 each.
The Pie Hole recently introduced Pie holes, the "two-bite" treats that have all of the kapow of a pie slice without needing to devour a whole slice of pie. If you're Rams-loving buds are more pie people, consider picking up a few, which are priced from a buck to $1.50, depending upon where you buy 'em. They'll be available at area The Pie Holes, from Feb. 1 through 3.
Cake Monkey Bakery's beloved Black & Pink cookies are staples at the sweet shop. But, in honor of SoCal's spot in the Super Bowl, those treats'll take on a yellow-and-blue hue. Want to pre-order some? You can, through Feb. 1, at noon. Keep in mind that the bakery will need at least 48 hours to complete your cookie order. Oh, and they're $2.50 apiece.
Astro Doughnuts & Fried Chicken will go the "mini doughnut" route, with a strong Rams look, for your guests who just want a more miniature-sized (but still flavor-strong) confection. A box is $22, and some of the doughnuts are lemon and blueberry doughnuts (complete with gold sprinkles) while others boast a white chocolate pastry cream filling.
Trejo's Coffee & Donuts is spotlighting a few particular superstars on the team with their line-up of Super Bowl LIII doughnuts, as well as hall of famer Eric Dickerson (look for the doughnut with #29). Buy yours through Super Bowl Sunday, at the Hollywood shop. The raised ring doughnuts are $3, while the player doughnuts are $4.50 each.
Copyright FREEL - NBC Local Media