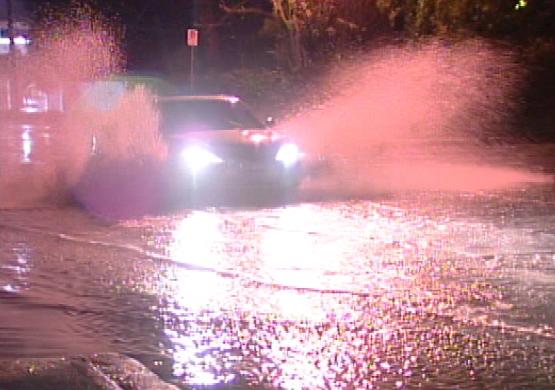 Some relief is expected Tuesday from the rain that pelted the Southland Monday, causing power outages and a significant rise in traffic collisions, along with breaking rainfall records for this date in several locations in Los Angeles County.

However, periods of heavy rain are expected from late evening Tuesday to early Wednesday and likely some thunderstorms, along with strong winds, Bruno said.

Although the rain is expected to continue overnight into the morning, Tuesday ``during the day it shouldn't be too bad,'' with scattered showers expected after daybreak, National Weather Service meteorologist Dave Bruno told City News Service.

Residents in the burn areas ``have to pay overnight tonight'': and especially ``Tuesday and Wednesday when then next band of rain comes through the area,'' Bruno said.

A break in the rain is possible from late Wednesday night through Saturday morning, Bruno said.

Monday, .98 of an inch fell at Los Angeles International Airport, breaking the previous record of .7 of an inch set in 1952, the National Weather Serice reported late this afternoon.

Rainfall records were also set today at Long Beach Airport, where 1.65 inches broke the previous record of .5 of an inch set in 1964; and San Gabriel, where 2.66 inches was recorded at the fire station, breaking the previous record of 1.33 inches set in 2002.

Between a half-inch and 1 inch per hour fell in the San Gabriel Mountains and adjacent foothills during a two-hour period in the afternoon, according to the NWS.

A flash flood advisory was in effect until 8:30 p.m. in East Central Los Angeles County, where heavy rain was forecast to continue to fall tonight.

An urban and small stream flood advisory was posted until 10:15 p.m. in Eastern Los Angeles County, including Tujunga, Sunland, Sierra Madre, Lake View Terrace, La Crescenta, La Canada Flintridge, Monterey Park, Lancaster, Diamond Bar and Acton.

Southern California Edison reported that 4,500 customers in Long Beach and Huntington Park lost power, along with 2,000 each in Santa Monica and Torrance and less than 1,500 each in Glendora and Rancho Palos Verdes.

There were few scattered outages in Los Angeles, mostly single homes, according to Terry Schneider of the Department of Water and Power, who did not provide a specific number.

About 175 crashes were logged between 9 a.m. and 3 p.m. in the portions of Los Angeles County patrolled by the California Highway Patrol, compared to 53 in the same period last Monday when roadways were dry.

The NWS issued a winter weather advisory for Los Angeles County mountains, other than the Santa Monica range until 6 p.m. Tuesday.
Copyright CNS - City News Service