Cheers and celebration turned to screams and confusion at the start of a Simi Valley fireworks show Thursday night as spectators realized something had gone wrong, igniting a ground-level explosion that sent debris and fireworks into the crowd.

James Wilhite, a front-row spectator at the show about 40 miles northwest of downtown Los Angeles in Rancho Santa Susana Park, was recording the start of the show -- greeted with "oohs" and "aahs." Those awed gasps stopped about three minutes into the show when what investigators believe was a malfunction involving a launching station scattered fireworks in several directions.

"That one row, all of the fireworks went off," said Wilhite. "They were actually aiming at us."
In a statement issued Friday morning, Simi Valley police said a portion of the crowd was about 800 feet -- more than the length of two football fields -- from the launch area. The first of the fireworks appeared to launch as planned, arching high into the night sky.

Wilhite's video then shows an explosion of light at ground level, and what appears to be a spark flashes in front of his camera. Children can be heard crying out for parents, who attempted to console them amid the confusion and darkness.

"There were some that went up in the air," said witness Michelle Rodriguez. "Everything just kind of scattered outwards. Then, everybody just started running. We felt the heat pull back toward us. That was it -- end of the show."
Other witnesses said they felt a concussion from the ground-level blast. Sharp pieces of debris rocketed into the crowd as spectators ducked for cover before backing away from the launch area.
Spectator Scott Nelson said people took cover in a process he described as "organized chaos."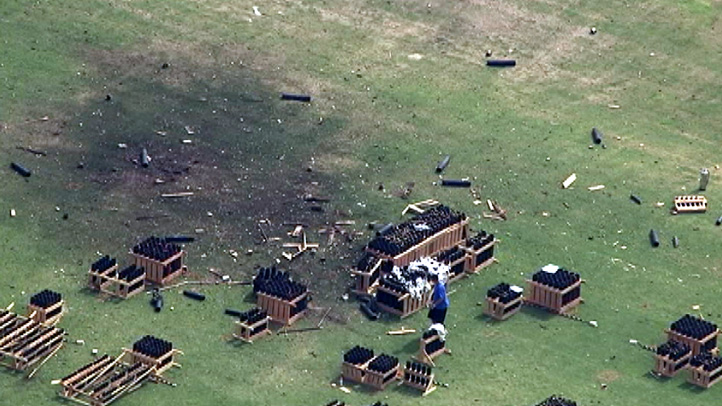 "All of the sudden, everything exploded -- almost like a ground explosion," said Nelson, who lives near the park located south of the 118 Freeway near East Los Angeles Avenue. "The guests I had dove for cover. They were climbing over chairs, running out of the way.
"Some were going high, some were going a few feet, some were going 10 feet."
Spectators were allowed to return to the park Friday to retieve items left behind.
Dozens of specatators were injured, but not of the injuries are considered life-threatening. Police described the injuries as "consistent with shrapnel and projectile type" injuries.
A preliminary investigation indicated at least one of the launching stations fell and launched fireworks into the crowd.

"Although it is still unknown why the launching station fell over, there are no indications of foul play and it appears that this is an industrial type accident," Simi Valley police said in a statement. "Due to the indications that this is an industrial accident, Occupational Safety and Health Administration (Cal OSHA) was notified."
Debris remained scattered on the soccer field early Friday as authorities continued the investigation. The area was blocked off as crews removed unexploded ordnance.
Local
Local news from across Southern California
View more videos at: http://nbclosangeles.com.
More Southern California Stories: