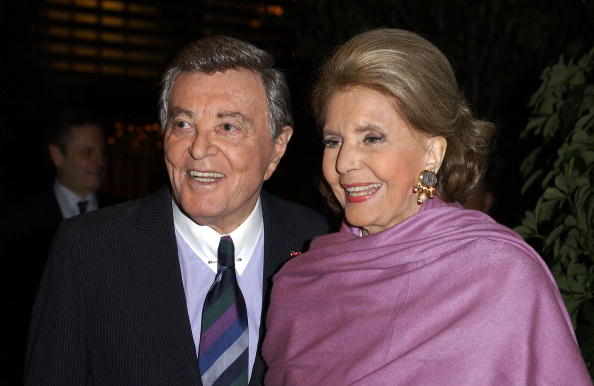 Romantic crooner Tony Martin, whose career spanned more than half a century and included musical recordings and night club appearances as well as roles in film and on television, has died at his West Los Angeles home at the age of 98.
Martin's quadruple threat-career netted him four stars on the Hollywood Walk of Fame.

Martin died Friday night of natural causes, according to Beverly Scott, his friend and accountant.
Martin rose to fame in the 1930s, the same era as crooner Bing Crosby. His full, baritone voice on such hits as "Begin the Beguine," "Fools Rush In," and "There's No Tomorrow" made him a favorite of women fans.

Although never a full-fledged movie star, Martin was featured in 25 films, most of them made during the heyday of Hollywood musicals. He was often cast as the romantic lead, as befitted his six-foot frame and dashing appearance.

He married twice -- both times to a Hollywood musical superstar. The first was a short-lived relationship with Alice Faye, followed by a 60-year marriage to Cyd Charisse, which lasted until her death in 2008.

Martin was born Alvin Morris on Christmas Day in 1913 in San Francisco to Russian Jewish. His parents divorced while he was an infant, and in his autobiography, he wrote that he was a Christmas present in a family that didn't believe in Christmas.

Growing up, Martin found an escape in music from his family's poverty and the taunts and slights of his gentile classmates.
Local
Local news from across Southern California
By the time he was in high school in Oakland, he had already formed his own band, "The Red Peppers." He attended St. Mary's College of California and after graduating, formed "Al Morris and his Orchestra" playing San Francisco night-clubs and often appearing on radio.

It was radio work in the thirties that led to his break into films –cast in "Sing Baby Sing" in 1936 –a film that featured his future wife, Alice Faye, and introduced the world to the Ritz Brothers.

Louis B. Mayer had heard Martin sing and ordered a screen test, which was a failure –but it got him an agent and eventually led to his name change. He took the name "Martin" because he liked the music of band leader "Freddie Martin" – and adopted the name "Tony" from a magazine story.

Under contract to Twentieth Century Fox, Martin appeared alongside Judy Garland ("Pigskin Parade"), Barbara Stanwyck ("Banjo on My Knee"), Alice Faye and Don Ameche ("Sing and Be Happy") and comedian Eddie Cantor ("Ali Baba Goes to Town").
In 1940, Martin moved to MGM and appeared in a number of that studio's famed musicals.

Martin met Faye, while still at Fox where she was one of the studio's biggest stars. They married in 1937, but the marriage fell apart two years later over career conflicts and his distaste for being known as "Mr. Alice Faye."

Martin married Charisse in 1948 and adopted her son Nicky. The couple had a son, Tony Jr., born in 1950. In the mid-fifties, Martin broke into television with a 15-minute variety program that aired on NBC from 1954 to 1956.

He was also the featured vocalist on the George Burns and Gracie Allen radio program, during which Allen often playfully flirted with the singer.

During World War II, Martin first joined the United States Navy, but rumors that he had gotten his officer's commission through bribery led him to leave the Navy and join the U.S. Army Air Forces. He wound up working as an entertainer, putting together a troupe to perform at various bases.

Funeral arrangements are pending at Hillside Memorial Park in Culver City.
Follow NBCLA for the latest LA news, events and entertainment: iPhone/iPad App | Facebook | Twitter | Google+ | Instagram | RSS | Text Alerts | Email Alerts