Strong wind gusts are expected Tuesday evening after another storm system moved into the region overnight and brought rain, snow and cold to Southern California.
Interactive Radar | Check Traffic Conditions | Send Us Your Weather Photos
Snow, ice and gusty winds are possible in mountains and the Grapevine section of the 5 Freeway north of Los Angeles.
"The winds behind this will play a big part in our weather story," said NBC4 forecaster Elita Loresca.

A high wind warning will be in effect from 4 p.m. Tuesday to 7 a.m. Wednesday. The warning indicates winds of at least 40 mph or gusting to 58 mph.

Sixty-five mph gusts and sustained northwest winds of between 25 and 40 mph will sweep through the San Gabriel Mountains until early Wednesday, according to NWS forecasters.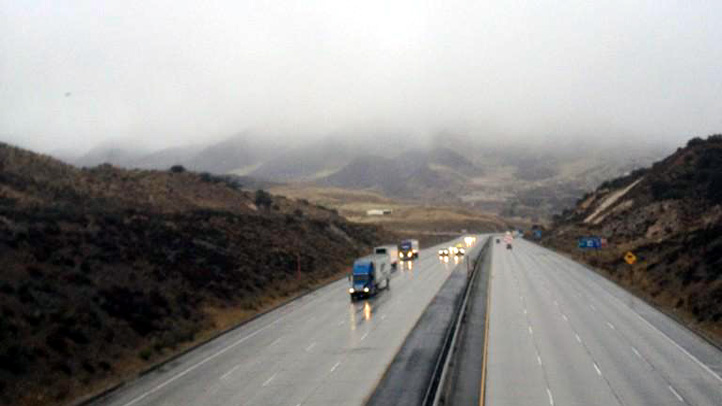 A less severe wind advisory, indicating that gusts of 35 mph or more are expected, will be in effect from noon until midnight in the Antelope Valley, from 4 p.m. until 7 a.m. Wednesday in the Santa Monica Mountains Recreational Area and the Santa Clarita Valley, and from 6 p.m. to 7 a.m. Wednesday in the San Fernando Valley.

Snow levels will drop to around 3,000 feet Tuesday night.

"We're seeing very poor visibilities in our mountain areas," said Loresca.
Local
Local news from across Southern California
Showers moved in overnight, and several single-vehicle crashes were reported on LA and Orange county freeways early Tuesday. At last four vehicles were involved in a crash on the westbound 10 Freeway at Overland Avenue and downed utility pole blocked traffic after a crash on the southbound 5 Freeway near the 55 Freeway in the Santa Ana area.
Tuesday's Temperatures

40 on Mount Wilson
49 in Palmdale
50 in Lancaster
53 in Avalon and Saugus
57 in Burbank
58 in Pasadena and San Gabriel
59 in Anaheim and Woodland Hills
60 in Long Beach and at LAX
61 in downtown LA
62 in Newport Beach

Expect similar temperatures Wednesday with clear skies. Dry conditions are expected Wednesday through late Friday, when a weak weather system will approach the region, according to the National Weather Service.