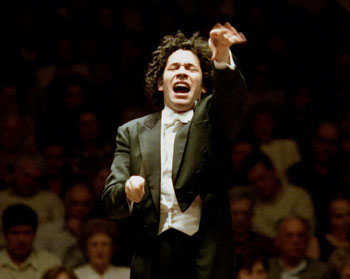 Gustavo Dudamel made his debut Saturday night as music director of the Los Angeles Philharmonic with a free concert at the Hollywood Bowl.
The lineup also included Flea, Herbie Hancock and Andrae Crouch.

The first half of "Bienvenido Gustavo!" featured young local ensembles, rising stars and established names. The concert concluded with Dudamel leading the Los Angeles Philharmonic in Beethoven's "Ninth Symphony" and fireworks.

The 28-year-old Dudamel, who is the 11th music director of the Los Angeles Philharmonic, also conducted the Youth Orchestra Los Angeles in Beethoven's "Ode to Joy."

Crouch performed with an all-ages gospel choir; bassist Flea from the Red Hot Chili Peppers with the Silverlake Conservatory Ensemble; Hancock with the Los Angeles County High School for the Arts Jazz Band; and David Hidalgo and Taj Mahal with Los Cenzontles.

Dudamel has received worldwide acclaim and is hailed as one of the most exciting and compelling contemporary conductors. His honors include the Q Prize from Harvard University for extraordinary service to children; the Royal Philharmonic Society Music Award for Young Artists and the Premio de la Latindad for outstanding contributions to Latin cultural life.

Dudamel was named by Time as one of the world's 100 most influential people. He is also music director of the Gothenburg Symphony and Simon Bolivar Youth Orchestra in his native Venezuela.
Copyright Archive Sources