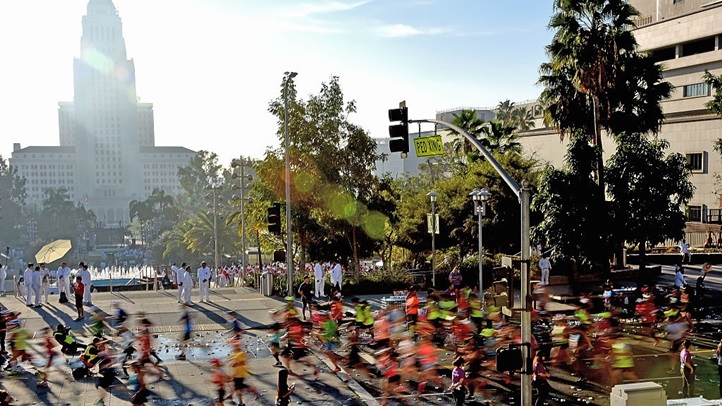 LA Marathon: It's the biggie, so biggie that it takes in a swath of this great city, from Dodger Stadium to Santa Monica. Hollywood, Sunset, and Santa Monica Boulevards will all have starring roles, Cheer Alley will again raise the you-can-do-it! vibes along Mile 18, and the Finish Line will boast an Angel City Brewery-helmed beer garden. Some 24,000 participants'll be making the Sunday, March 19 run, one that has a "Guinness Book of World Records" component, just to make an already exciting event even that much more major.
St. Patrick's Day: It's all about the fiddles, the foams, and that savory corned beef (oh yes, and the important sides, cabbage and boiled potatoes, too). Where to go? Tam O'Shanter is doing it up, and Tom Bergin, too, and Casey's Irish Pub'll be hosting its annual, out-into-the-outdoors street festival. The Original Farmers Market boasts the dancing tunes, and famous Magee's corned beef, while several SoCal venues are serving up traditional vittles on March 17. And if you're in Marina del Rey? There are several spots ready to celebrate.
Local
Local news from across Southern California
Happy 50th, Pirates of the Caribbean: How many "yo, ho, hos" do you think might have been sung in the last five decades at one of the planet's best-known, most pirate-tastic attractions? Discuss with your Disneyland-lovin' pals as you make your way to Anaheim for special arrrr-related doings, merch, and eats on March 17 and 18. March 18, by the by, is the actual, this-is-it 50th birthday for Pirates of the Caribbean, which first set sail in 1967.
LA Nature Fest: Do you thrill to new news regarding P-22 and the other big felines who share our city? Could you watch the crows and squirrels hop/dash around your street for the better part of the morning? Then make for the Natural History Museum on Saturday, March 18 and Sunday, March 19 and join a celebration highlighting all of the many cool critters who also call our megalopolis home. Scientists will chat, animals will want to meet you, and numerous other activities will unfold like petals on a poppy.
Wildflower Time: We know. All of your friends who've already been out to see the glorious buds popping up around Lake Elsinore and the Anza-Borrego Desert State Park are likely advising you to go on a weekday, and that is probably a truly fine idea, if you can work that out. For a lot (as in A LOT) of people are looking for flower enjoyment right now, and with the fine weather running out, for more rain, in a couple of days, well... we understand if you've got to try. Tip? Go early. (Always a good tip, actually, for most things in life.) The Antelope Valley California Poppy Reserve did say that the March 18-19 weekend might be the "real start" for that particular bloom, so hurrah.
Copyright FREEL - NBC Local Media