Taco Bell has teamed up with Lyft in Southern California to make cheesy, crunchy late munchies a quick detour on your late-night trip home.
Starting this weekend, Lyft users in Orange County will be able to select "Taco Mode," featuring a custom menu, a taco-themed car and a free Doritos Locos Taco at their drive-thru stop.
"We realized that for every person who has asked their Lyft driver to make a pit-stop at Taco Bell - and we've seen many - there are likely those who weren't sure if this was possible," Marisa Thalberg, a Taco Bell spokeswoman said in a news release.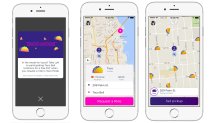 Addressing comments on Facebook, Lyft said drivers will be paid for the special option based on time and distance, like regular rides.
Drivers who are concerned about messes, food odors and longer rides will also be able to decline the Taco Mode option.
The fast food chain and Lyft will test the feature in Orange County from July 27 to 30, and Aug. 3 to 6 between 9 p.m. and 2 a.m.
The companies expect to expand the service into other markets later this year and offer nationwide Taco Mode privileges in 2018.