You can't predict your future, but Yuri Angela Chung knew that she wanted hers to be extraordinary. What she didn't know was that her extraordinary would include a battle with metastatic breast cancer.
At 32 years old, Chung is a freelance graphic designer and cancer patient who is hoping to overcome the social taboos of the disease. She plans to raise funds on Kickstarter to host an art show exhibiting her personal experience with breast cancer.
In September 2010, Chung was diagnosed at 25 with stage 3 breast cancer. She underwent a mastectomy of her right breast and a removal of the lymph nodes under her right arm.
Though Chung was never trained as a writer, her journey with the disease led her to convey her thoughts and feelings through the written word. She typed a series of 10 short pieces, or "notes," that were a reflection on her experiences during treatment.
Chung was in remission for nearly five years when she found out her cancer had returned. This time it was stage 4 breast cancer that had spread to her bones, lungs and brain. While there is no cure for this type of cancer, people with the disease may be able to live for 20 or more years, Chung said.
But, every time a scan shows progression in the size of her tumors, Chung's doctors sit her down and recommend she fills out an advanced directive. This is a form that patients fill out concerning life and death decisions, she said.
"When this conversation comes up it really scares me and it makes me angry," Chung said. "And it makes me want to fight harder."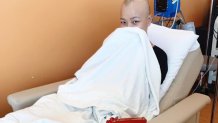 She made the decision to share her first 10 notes publicly as a way of coping with the return of the disease.
Local
Get Los Angeles's latest local news on crime, entertainment, weather, schools, COVID, cost of living and more. Here's your go-to source for today's LA news.
Posting one note per day, for 10 days, she was surprised by the overwhelming and rapid response from her Instagram followers. Messages from strangers warmed her heart.
"It's the most rewarding when it's someone who is going through a similar fight ... and they thank me and it's a really great feeling," Chung said.
The Instagram posts were also a way for family and friends to follow Chung's journey without intruding.
"Even close friends really don't know how to act or what to say, but they're curious and they want to know, but they don't want to pry," Chung said. "I think my friends appreciated me sharing my thoughts and what I was going through."
Chung went on to write eight more notes during this second battle. It was these writings that developed into "Notes To A Friend," a collection of 21 notes, 18 of which were written by Chung. The other three were each written by her mother, father and best friend, Jackie Park.
For Chung, "Notes To A Friend" means everything.
"It's my story. It's everything I feel," Chung said. "It's really an honest portrait of me and I don't hide anything when I write."
In December 2015, Chung decided to host her first art show in Los Angeles. It showcased nearly 50 works created by artists in response to her collection.
Chung is currently using Kickstarter to raise money for what she hopes to be her second show in New York City this October, which is National Breast Cancer Awareness Month.
For the show, Chung knew she wanted to display the full collection of "Notes To A Friend" and also incorporate some form of technology.
She reached out to Park, an architect based in New York, who brought together a team of creative technologists to assist Chung.
The ideal setup is a neutral, gallery-type space with white walls in an easily-accessible location, Chung said. The notes will be displayed on posters with the words pressed onto the paper without the use of ink, also known as blind debossing. Her vision includes projectors lighting up the words as they are spoken on a looped recording by Embeth Davidtz, an actress known for her roles in "The Amazing Spider-Man," "Schindler's List," and "Mad Men." Davidtz is also a breast cancer survivor.
Chung hopes to raise $50,000 that will go toward renting the space for a month, the technology needed to display the collection and any other expenses that the project may incur.
"Opening up a space where people feel comfortable talking about it [cancer] and sharing their stories," Chung said. "That's what I hope it helps to do, normalizing the conversation."
While "Notes To A Friend" evidently illustrates Chung's story, she wants the show to offer the public a glimpse into the life of a cancer patient.
"My biggest hope is that it gives people an honest insight into what it really feels like and what stage 4 breast cancer really means," Chung said. "Not even breast cancer, but what [any] cancer really takes from you."
If you would like to donate to a Kickstarter account set up to help Chung, you may do so here. Note that Kickstarter deducts 5 percent and payment processing fees if the project is successfully funded.