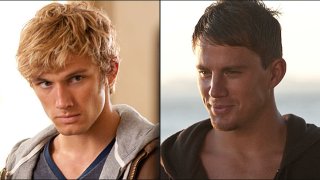 There are few things that annoy us as much as the premature celebrity retirement. Every few months it seems that one famous person or another is declaring their intention to stop doing whatever it is that made them famous. What makes these self-aggrandizing declarations so grating is that they almost never.
Take Steven Soderbergh, one of the great director's of his age, who not long ago made it known that he would no longer be directing films after he finished his "Liberace" biopic starring Michael Douglas and Matt Damon. After that, he was gonna start taking his painting more seriously.
Well now he's decided to stick around long enough to make "Magic Mike," a film based on Channing Tatum's experiences as a male stripper. Better yet, Alex Pettyfer has now joined the cast , reported Deadline. Tatum will play the title role, with Pettyfer starring as his younger protege, whom he schools in the fine art of "how to hustle on and off the stage." Oof.
Pettyfer has starred in two of the more poorly reviewed films of 2011--"Beastly" and "I Am Number Four"--while also developing a reputation for being "difficult and demanding." Have fun with that guy, Steven.