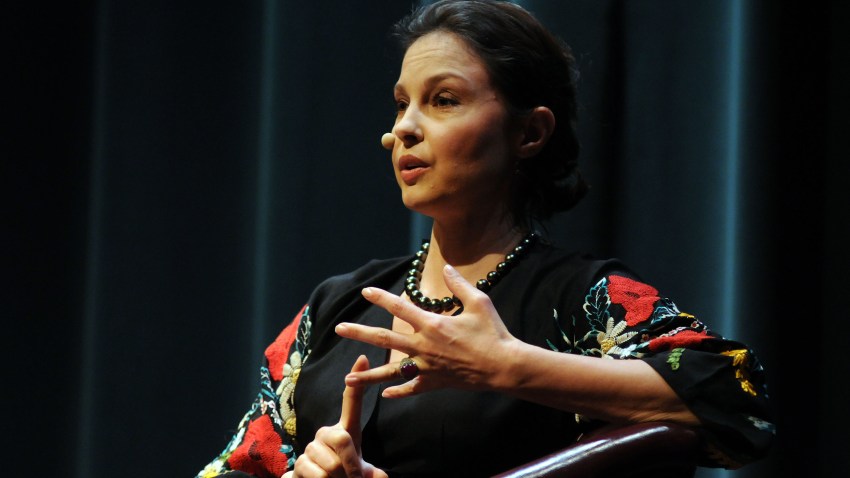 Ashley Judd's been missing from Hollywood of late. But now you can find her, ironically, in "Missing."
Judd, known for her big screen in films like "Kiss the Girls," "Double Jeopardy," "Divine Secrets of the Ya-Ya Sisterhood" and De-Lovely," returns from a self-imposed showbiz hiatus while pursuing her higher education goals and staying deeply involved in political, social, environmental and humanitarian causes.
But one master's degree and the offer of a juicy role later, Judd's joined the ranks of respected film stars migrating to TV for "Missing," a 10-episode series shot on location around Europe that casts her as a retired CIA agent who uses every resource at her disposal to track down her vanished son. Judd opens the dossier on her return.
U.S. & World
News from around the country and around the globe
On her decision to get back in front of the cameras, and to do it for television:
"I was very fortunate in that they came looking for me, and that is something that I found very humbling and flattering. Obviously I was aware that this is a golden age in television, that incredible film producers are making special TV, and that once rather impermeable membrane between film actors and TV actors has completely vanished. I remember turning on 'The Big C,' a show I enjoyed, and there was Liam Neeson doing a guest turn, and while I was in school, people were sending me a lot of television material, but it was either try to get a A in Health and Human Rights or read a script. And I figured, you know, I'm in school. I might as well go for the grade. And once I graduated, my agent called me with that special lilt in her voice, which all actors love to hear: 'I think I found the one,' And I flew to Los Angeles and had a meeting with these fine producers. They pitched me a sensational idea, a mother looking for her son. I am not CIA – I'm a mother looking for my son. It's going to film ten episodes, which does work well with the balance of my very abundant life, and, hey, each episode is event TV set in a glorious European capital. What's not to love?"

On getting back into shape for the show's abundant action sequences after a steady stint at her desk:
"I'd had a very sedentary life until I began filming 'Missing.' I went to graduate school, and I wrote a book, so I say – and I mean it quite sincerely – I sat down for two-and-a-half years, and I didn't get up until it was time to do that. So I just got on my yoga mat with a few teachers I really like and who I trust, and fortunately I've got good muscle memory, and it came back, and it was a way not only to be really in my body and flexible, but to make sure I stayed safe and didn't get hurt. And then it was just time to fight – and I love to fight, and I find it easy and rewarding."

On her learning curve a five-year break:
"Part of what was appealing to me about doing 'Missing' is that its only 10 episodes. It was very contained and the schedule was known in advance, so I could really dedicate the rest of my year to other work, like feminine social justice and humanitarian work, as well as kind of following my hot husband [IndyCar driver Dario Franchitti] around. It was something new and different, and on 'Missing' we always used a three-camera setup, so that's a dream for an actor because not only could I give a performance from all angles at once and not have to play to a specific camera, but I could have more reality and living in the space and then we could do more each day. We would rip through extraordinary amounts of material and that was draining, obviously, but really rewarding. With the digital revolution, even on the set, it takes very little time to change the camera. It moved very quickly. I was on my way back to my trailer and they would say that they were ready, and that was actually the biggest adjustment for me, probably because I retired for five years."

On maintaining the show's near-constant sense of tension:
"I really had to be prepared, very emotionally prepared. I mean, there were times when the directors were happy after one take, and I'm like 'I'm kind of having fun here – may I do another?' So just knowing that I could bring it at the level that was important to me with every single scene and every single take."

On working from a well-developed character backstory:
"The producers and writers provided me with a very clear sense of who Becca Winstone was and is, and when we got about two episodes in they gave me, actually the timeline of my whole life. Because as you'll see in all of these flashbacks with Sean Bean, in spite the fact that we loved each other very much and we worked together as CIA operatives, the marriage was not an easy one. And so they created this timeline for me that showed, for example, how the Adriano Giannini character intruded upon our marriage. And he's an asset I reach out to in Rome when my son goes missing, so it's the horrible collision for me of my past and my present."
On the rigors of launching a new series, and the added complications of shooting it all over Europe:
"I have been told – of course, after the fact – that Season One of a show is the single hardest thing to film, and we had additional challenges being so far away from our studio. It was good , there was good direction, a lot of quality people, and it was just hard. There's really no way around it: it was just hard. But it wasn't hard in the ways that you would expect. Like, filming in Istanbul was a total joy – we didn't have to pause filming for the call to prayer every hour, or in Prague there's a guy who plays his bugle every night at 6 and we didn't have to pause for that, or we would be filming in the very famous old town square and the Astronomical Clock would go off and right before the hour 10,000 tourists would materialize because they wanted to see this wonder of the world. So those things were easy to work around because they're part of the awe and magic of being in Europe, but there were other things that were just hard. It's a wonderful show and I think people will enjoy it, and I'm getting to the point where I'm starting to forget the hardships and just be so pleased with how well it turned out."
"Missing" premieres Thursday night, March 15, at 8 PM ET on ABC