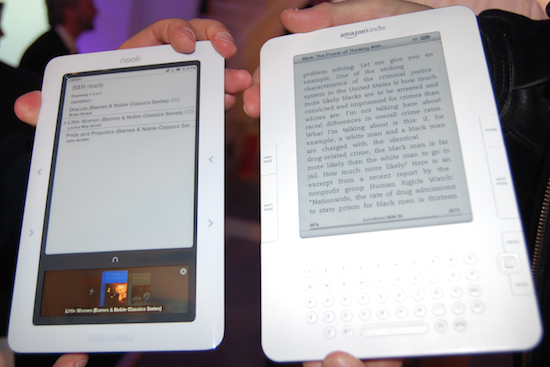 Reading on the go just got another high-tech boost in the form of an electronic book. Barnes & Noble on Tuesday unveiled it's answer to Amazon's Kindle, the $259 Nook, which goes on sale at the end of November, but is now on pre-sale on www.nook.com. One-upping its competition, Nook adds with a small full color touch/horizontal scrollable navigation screen that displays book cover art underneath the now de rigeuer 16-gray scale E-Ink e-paper screen.

The touchscreen also displays standard content lists and a pop-up touch keypad. The screen goes dark so you're not distracted while reading.

To combat Kindle, Barnes & Noble couldn't intro a "me-too" e-reader; "following the leader is simply not in our DNA," said William Lynch, president of B&N's digital division. Inside is 2GB of memory, which will hold 1,700 e-books, supplemented by a microSD slot. Nook also is an MP3 player and picture viewer (or as much as a 16-gray scale screen can display a picture) and can display sideloaded Adobe PDFs.

The Nook-to-Nook feature lets you lend e-books to other Nook owners. To bribe you into the Nook, the first 10,000 buyers will get a free e-copy of "The Tipping Point." Author Malcolm Gladwell showed up to read from the opening chapter.

Nook is the first e-reader (but not be the last) with both 3G (via AT&T) and WiFi for downloading content and exclusive content inside B&N retail stores. It also runs Android, which opens up the device for all manner of third-party app development.

Nook is just one weapon in B&N's war against the Kindle. Not only will Nook enable access to more than a million e-books (Amazon has less than half as many), magazine or newspaper, more than a million e-book titles from both its own online store and Fictionwise, but B&N's online store.
Copyright DVICE - DVICE