An out-of-control campfire might have started a 1,700-acre brush fire that destroyed two homes as it raced down a hillside and cast wind-blown embers into a foothill community south of Southern California's Angeles National Forest.
Updated Article: Homes Threatened During Day 2
Three men were arrested in connection with the fire, which forced evacuations involving about 1,000 homes as firefighters on the ground and in the air continue the attack in Glendora, a San Gabriel Valley city located about 30 miles northeast of downtown Los Angeles.
The men were booked on suspicion of recklessly starting a fire, said Glendora Police Chief Tim Staab. They were identified as Clifford Henry, 20, of Glendora; Jonathan Jarrell, 23, of Irwindale; and Steven Aguirre, 21, whose most recent residence is listed as Los Angeles.
Colby Fire: Evacuation Information | Photos | Crews Gain Upper Hand on Flames
The arrests came after a 911 caller reported "suspicious" activity in the area after the start of the fire.
"They are being cooperative," Staab said. "One reported that they started a camp fire and the wind picked up."
The suspects are being held on $500,000 bond each, up from $20,000 each.
U.S. & World
News from around the country and around the globe
The Colby Fire, reported at about 6 a.m., quickly grew to 1,700 acres and sent thick smoke that could be seen throughout the Los Angeles region. It was 30 percent contained as of 4:45 p.m., according to the most recent update from the Los Angeles County Fire Department.
At least five homes have been destroyed in the fire and 17 other buildings were damaged, officials said. Two firefighters suffered injuried in the blaze and a civilian was also hurt.
Embers blown by 30-mph wind gusts into a neighborhood set palm trees ablaze like matchsticks and sparked several small spot fires, pictured below.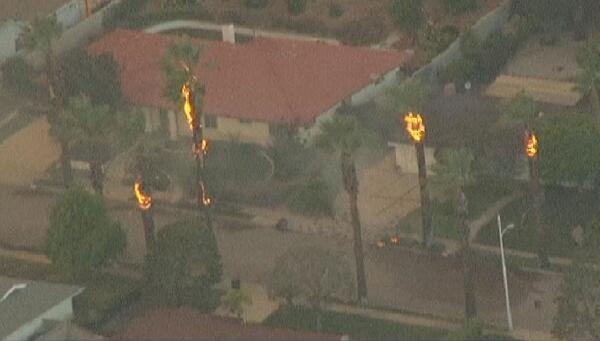 Watch: Resident Wakes to Brush Fire Outside Home | Embers Light Trees on Fire
"It was growing pretty rapidly," said Jim Tomaselli, U.S. Forest Service. "The fire was initially inaccessible to our engines. It wasn't up against a road."
During an afternoon news conference, fire officials said they were cautiously optimistic that crews were gaining the upper hand on the blaze, which broke out after the driest year on record in California and during what could be the driest January in the state.
City News Service contributed to this report.