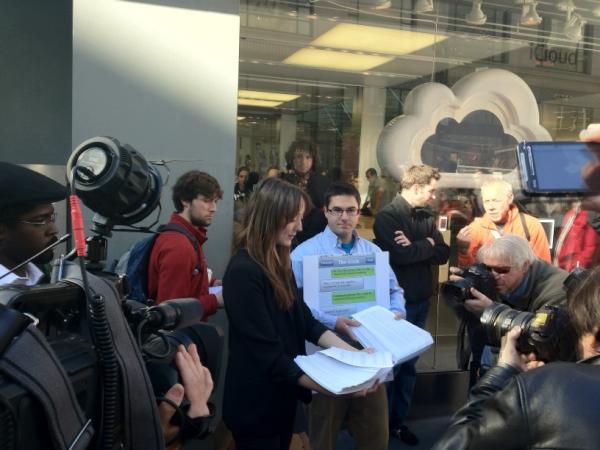 Apple stores were picketed by protesters today unhappy about the way the Cupertino, Calif. company's suppliers have been treating Chinese factory workers.
"I'm a big fan of Apple products, but I can no longer ethically support products that harm the people that make them," Shelby Knox, an organizing director with Change.org at the Grand Central Station Apple store protest in New York, told CNN. "When people join together, we can hold companies accountable."
According to CNN, the protests were an offshoot of an online petition drive started two weeks ago at Change.org that subsequently received 200,000 signatures. We also wrote of another group, SumOfUs.org, that also drew attention to the conditions at factories in Apple's supply chain and garnered around 57,000 signatures.
U.S. & World
News from around the country and around the globe
Protests started in Bangalore and London, but also were scheduled to continue in Washington, DC, San Francisco and Sydney.
"I was there to show solidarity," Moll told Cult of Mac. He also wanted to "get my name behind that effort as well as the name of the Apple Retail Workers Union…though the issues we're facing are a far cry from what the workers in China face."
An Apple spokeswoman reaffirmed the company's commitment to monitoring its overseas suppliers. "We care about every worker in our worldwide supply chain," Apple said in a prepared statement. "We insist that our suppliers provide safe working conditions, treat workers with dignity and respect, and use environmentally responsible manufacturing processes wherever Apple products are made."
Fanboys may not want to hear this, but if Apple wanted to stop all of the serious abuses and nightmarish conditions at Chinese factories, it could likely have them stopped within 24 hours. However, without public scrutiny and accountability, there's no reason why Apple or any other company would change its behavior.