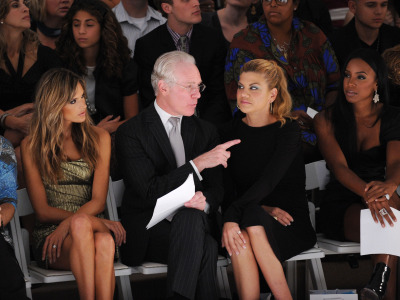 At the center of the scrum before Christian Siriano's September 12 Spring 2010 show was the apparent king of it all, Tim Gunn. Eclipsing more traditional (and younger, blonder) celebrities, Gunn ruled. Imagine our delight, then, when we snagged him for a chitchat post-show in the American Express Skybox.
By the time he sat down with us (and, we should say, gave us his chipper, undivided attention), you'd think the man would have had it, between paparazzi flashbulbs, the emotional drain of viewing his mentee's spectacular collection and navigating the same crowded mess when it was done - not to mention his continued work as chief creative for Liz Claiborne, a new book coming out in the spring and having just begun filming his role as the "fashion therapist" on a new show with Oprah's Dr. Oz - but no. Perhaps the only effort on our part was attempting to keep the interview focused on Mr. Gunn, and politely deflecting his questions about how we were doing.
And yet, this is no fluffy superstar - as fashion obsessed tradespeople, we came away from the convo feeling compelled to hug him, yes, but more importantly, that we had just had a real conversation with an incredibly knowledgeable fashion stalwart. Of course, we had.
U.S. & World
News from around the country and around the globe
Christian's show was spectacular.
It was. I always think back to Christian's Project Runway audition, and when he left the room, I turned to the others and said, "for the first time, I have seen a fashion prodigy." I truly believe he is his generation's Marc Jacobs.
Wow, that's high praise. Are there any trends you've seen at fashion week that you're loving so far?
Actually, this was my first show, so it's too soon for me to even wrap my head around to be perfectly honest.
What's happening right now, for fall?
Well, a lot of classic styles are back, and I think it's a collaboration between designers and retailers, realizing that if people are going to buy something, it's going to be something that will have a longer shelf life than just some uber-trend.
So it's the uber-trends of the moment that worry you right now?
They always worry me. Generally speaking, people are very insecure about their fashion, and they feel a little bit more confident when they know they're with a trend. The trouble is, just because it's a trend doesn't mean you should be wearing it! And I like telling women that, and saying, No! Just because the gladiator sandal is in, doesn't mean you should be running out and buying it. If it really is you, and suits your proclivities, and fits in with what you already have, then fine, but the last people need to be doing is buying an item that forces them to re-do their entire wardrobe. People just can't do that. I'm all about: it's only a good trend if it's good for you.
The thing is, and you know this, you read all the fashion magazines, or look at all the fashion websites - you can't possibly do that [Ed. note: unless it's The Thread, of course]- when you see it full circle, there is something for everyone. Elle tells you to go out and buy a pencil skirt, but Vogue says it's got to be a voluminous A-Line, so it's just dependent on you, you just go with what you want.
You mentioned that you're working on a new show with Dr. Oz, who used to be on Oprah. What is the new show all about?
You could call me the fashion therapist. We work with incredible, but disadvantaged women to help rebuild some of the things in their lives. It's very much a version of [Tim Gunn's] Guide to Style. The premiere will air on Thursday!
So, since we're NBC New York, we're very local-focused - where are you filming the show?
Here! In New York.
Fantastic! Where do you live in the city?
I am a brand-new homeowner! For the first time in my life, after 26 years here, I own an apartment. It's on the Upper West Side, where I've never lived before. I love it. I just love it.
So that's where you shopping and playing these days?
Well, it's where I shop - I don't play these days. I have no time to play.
Of course not. You've even got a book coming out, "Gunn's Golden Rules: Life's Little Instructions to Making It Work." Your second, after "Tim Gunn: A Guide to Quality, Taste and Style." How did they come about?
Well, when the publisher first approached me to write a self-help, instructional guide, I went out and bought every book on the subject. After reading them, I thought, I can't do this, there's no way. I had to pay a visit to my mentor, Diane von Furstenberg. When I told her I didn't think I could do it, she told me that was crazy, and that I had to do it.
She's a good mentor!
Yes! And I think everyone should have a fashion mentor. For example, I always ask myself, what would Cary Grant do - or wear - in this situation?
What are the essential fashion items that every New York woman should have, for a New York lifestyle?
I go back to my 10 Essential Items that are in my book, because they came out of a New York-oriented brain. A classic trench coat- but that doesn't necessarily mean a Burberry. That could mean a Michael Kors red patent leather trench. Again, whatever suits the individual's particular taste. But that kind of item, which I say because you can wear it to the grocery store, you can wear it to the opera!
A basic black dress, a - and you'll get sick of me for using this word - classic dress pant, a white shirt, a blazer or tailored jacket. Could be a shrunken blazer, could be a classic menswear-inspired blazer, depending on the individual. A dress skirt. A sweatsuit alternative for walking the dog, a cashmere sweater. I have the same list for men, I just take out the basic black dress and the skirt.
And with some New York men, you may not even have to do that!
Ha! Yeah!
Besides Project Runway talent, any young New York designers you have your eye on?
Well, I've been watching, of course, the Vena Cava girls, Sophie Buhai and Lisa Mayock. They were my students, I'm proud to say, so I'm really thrilled with what they've done. The Proenza Schouler boys were my students. I'm so in awe of what they've achieved. I mean, they're part of the fashion establishment and they just graduated from Parsons in 2002! And the Ohne Titel girls, Alexa Adams and Flora Gill, they were my students, they're good.
Yes! They showed this morning and it was spectacular.
Oh, they did?! They didn't invite me! That's wonderful, though, fantastic. I'll have to find out why I wasn't invited! I'm thrilled you thought their show was breathtaking. LIke Jack and Lazaro [McCullough and Hernandez of Proenza Schouler], Alexa and Flora a true example of 1+1=10. Either of them alone, and it's too narrow a sensibility, but put them together, and it's a hothouse incubator. So yes, the new ones I have my eye on are Vena Cava and Ohne Titel.
What's on your plate for the rest of fashion week?
You know what, I can only do it one day at a time.
Good strategy. What will you do when it's all done, any time to relax?
No. I'll just keep working! I've said it before, I'm one hair short of a psychotic breakdown, but I'm OK!