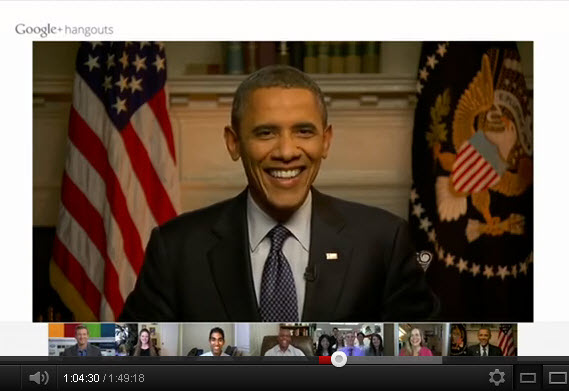 President Barack Obama hung out with five Google+ followers Monday for about 45 minutes.
It was a first for the president and a first for the five people who were selected to hang out with him.
Google organized the event, which started with the typical "Can you hear me now?" from the Mountain View campus. On the other end was the Commander-in-Chief himself inside the White House, who answered that he could indeed hear and added, "We always got some new fangled thing here," referring to Google+.

U.S. & World
News from around the country and around the globe
For the next few minutes Mr. Obama conducted his first hangout on Google+ with five Americans.
Steve Grove was the Google moderator. He guided the hangout between the Google campus and the West Wing.
One of the five hanging out was a senior at John F. Kennedy High School in Fremont. Adam Clark got his teacher Mrs. Santillan and few students from his AP Government class to sit in the live stream as well. The President teased Clark at the start about wearing a tie.
When it was Clark's turn to talk, he asked the President for advice about higher education and his fear about student loans.
Mr. Obama said he and his wife left college with student loans which they worked together to pay off. He told Clark to pick a career where he could find a job, saying that some college students put that as too low a priority.
When Clark and his fellow students submitted their question on YouTube they say they never thought it would be chosen, but they asked anyway and were able to meet Mr. Obama face-to-face.
The whole thing felt like a real conversation and although no reviews are in, it appeared to be an instant success especially for the people in the hang out. The president made some fans today.