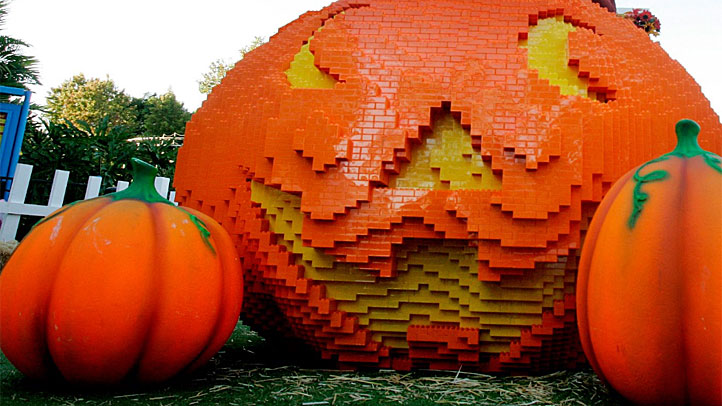 HALLOWEEN SUPERCHARGED: When you were a kid, Halloween was kind of on the same level as a trip to a theme park. You likely looked forward to both events, several months in advance, planning your costume down to the shoes and dreaming about your theme park day down to the last ride. But the idea of trick-or-treating inside a theme park probably seemed outlandish, like a story you might pen on creative writing day at school. Of course, that idea isn't so strange to the young'uns of today; trick-or-treating and collecting candy inside an exciting, ride-filled destination is not all that offbeat, and children can, on occasion, wear costumes to theme parks. Disneyland does it during its Mickey's Halloween Party nights, and LEGOLAND's own Brick-or-Treat Party Nights, which happen on Saturdays during October, uphold that fun-meets-fun tradition. Seriously. When you were a kid, wouldn't the idea of trick-or-treating inside someplace like LEGOLAND just made you do a happy dance?
PARTY, CHARACTERS, LEGOS: The Brick-or-Treat Party Nights will be open every October Saturday starting on Saturday, Oct. 6. Magic shows, costume contests, pirates, Hubble Bubble's Dance Party, and other terrifying (well, not too terrifying) events round out the evenings. You can also visit "select area" of the parks you're in. Plus? There shall be LEGOs. That giant LEGO jack o'lantern gets us every year; how long did it take to put that thing together? We'll guess in the time it takes to carve 150 real pumpkins? Two hundred? Anyway, it is impressive, LEGO artists. For more on Brick-or-Treating at the Carlsbad park, and all the kidly activities, click here, happy ghouls.
SUNDAYS, TOO: Let's also mention that the Brick-or-Treat Trail is open on Sunday as well as Saturday. You'll want to read all, hours and such, before making for Carlsbad.
Copyright FREEL - NBC Local Media