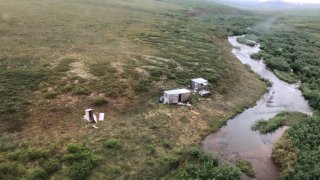 An injured man was rescued on Friday after reportedly fending off a bear for a week at a remote mining camp in Alaska, officials said.
The man, who was not identified, was spotted waving his hands in distress as a helicopter crew from the Coast Guard Air Station Kodiak passed overhead, according to a statement from the Coast Guard on Tuesday.
Crew members initially saw an SOS sign on top of a shack in the camp while on a trip from Kotzebue to Nome, only seeing the man after circling back.
He was taken to Nome for emergency medical care with an injured leg and bruised torso after a bear attack days prior.
"The man reported that the bear had returned to his camp and harassed him every night for a week straight," the Coast Guard said.
Read the full story here at NBCNews.com