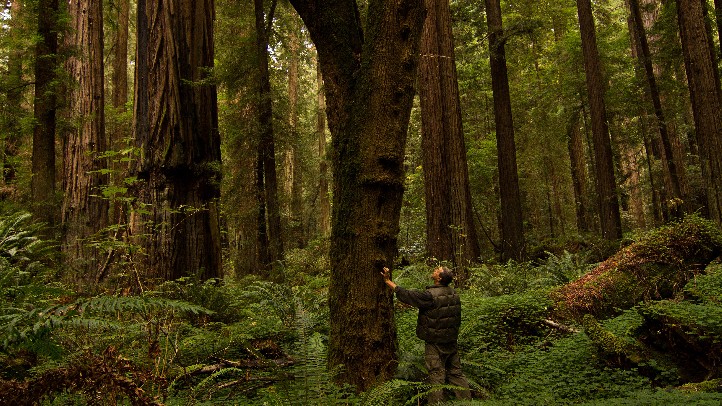 MAMMOTH MAPLE: Given that it is the spooky season, and we are deep into fall, and fall is very much a time of year associated with the maple tree, we're tickled and delighted, both, to hear of the discovery of one very tall maple. So tall that it just might be the tallest on the planet, and researchers believe it to be the tallest in the U.S. Where would such a gargantuan tree be? Well, very near the Avenue of the Giants, in Humboldt County, which lends this particularly special specimen its name: The Humboldt Honey. It measures over 157 feet, with a trunk circumference of 9.50 feet. M.D. Vaden discovered the beauty in July, and returned in October to measure the BigLeaf Maple again.
BEYOND THE REDWOODS: What makes this find triply charming are these observations: Maples are quite often associated with areas outside of California, so to lay claim to the tallest is quite the feather -- or, um, leaf? -- in our state cap. We're also glad that the spotlight falls to another genus, beyond the redwood. We are serious redwood fans, like you likely are -- who isn't? -- but there are other plants and wonders to explore and appreciate along the Avenue of the Giants. And third? Mr. Vaden regularly ventures into the woods to search out the hyperboles of the natural world. Read more about colossal Douglas firs and Hemlocks at his web site. It's a cool calling, yes? Seeking out the biggest of trees and calling attention to our natural world? Cheers to that, and the Humboldt Visitors people for alerting us to this super-big story.
AVENUE OF THE GIANTS: Even if you don't see the Humboldt Honey in person, there are marvels aplenty along one of California's most photographed byways. Here's what you need to know about the 31-mile drive.
Copyright FREEL - NBC Local Media