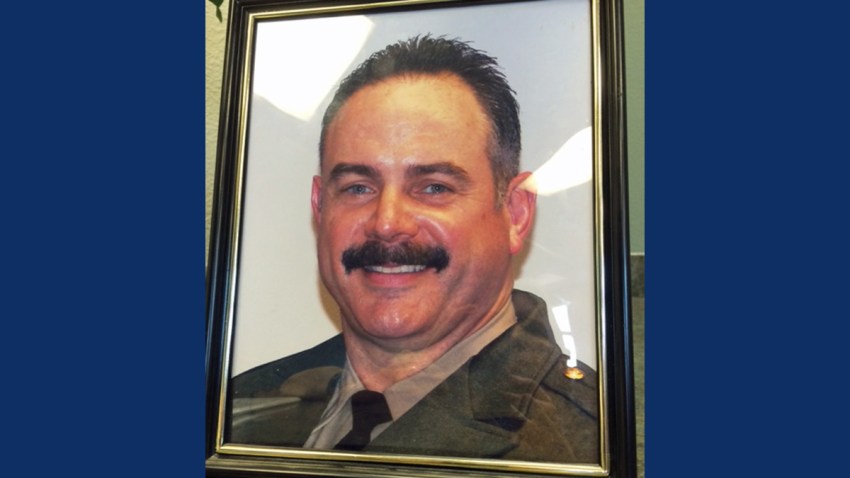 A Northern California sheriff's deputy was killed Wednesday in a shootout with an armed suspect who fled the scene and was later found dead in an apparent suicide, authorities said.

Mendocino County Sheriff's Deputy Ricky Del Fiorentino, 48, died in the shootout that happened around noon, the sheriff's office announced.

Sheriff Tom Allman said the deputy was shot just north of Fort Bragg in Cleone, a rural area that is a mix of homes, forest and open fields.

Fiorentino, once a wrestling coach at Fort Bragg High School, began as a deputy with Mendocino County in 1988, spent 10 years with the Fort Bragg Police Department and returned to the sheriff's office in 2000.

The Santa Rosa Press Democrat identified the suspect as Ricardo Antonio Chaney, 32, of Oregon.

Chaney is suspected of going on a crime spree that began early Wednesday, when he is alleged to have stolen a black BMW and forced the car's occupants into the trunk, the paper reported. The victims were later able to escape from the trunk.
Eugene police said in a statement Wednesday afternoon that the stolen car had been recovered, the Eugene Register-Guard reported.

According to the Register-Guard, when officers stopped the BMW, they found that Chaney had no vehicle insurance and discovered firearms, including a modified AR-15, and body armor in the glove box and trunk.

The shootout, which also involved a Fort Bragg police officer, left Del Fiorentino's vehicle "riddled with bullets'' and Chaney with a gunshot wound in the leg, Allman said.

Just after 4:30 p.m. Wednesday, the Press Democrat said investigators had called off their search for the shooter and nearby residents were no longer in danger.

Authorities were making automated calls "to let people know they don't need to worry anymore,'' Capt. Greg Van Patten, a spokesman for the sheriff's office, told the paper.

U.S. Highway 1 near MacKerricher State Park was closed during the search, according to the Daily Journal. Don Armstrong, the superintendent of the Fort Bragg Unified School District, told the Press Democrat that 20 students, ranging from kindergarten to 12th grade, were held at Fort Bragg schools while the road was closed.
During the search, law enforcement vehicles swarmed the area, the Press Democrat reported.

"There's got to be at least a million police officers there,'' said Paige McIntyre, who was also prevented from traveling north from Fort Bragg because of the road's closing.

Fort Bragg Mayor Dave Turner told the Press Democrat that the shooting has put the entire town on edge.

"People are worried. Anytime you hear someone got shot, that there's someone with a gun running, people are rightfully concerned,'' Turner said.
Copyright AP - Associated Press