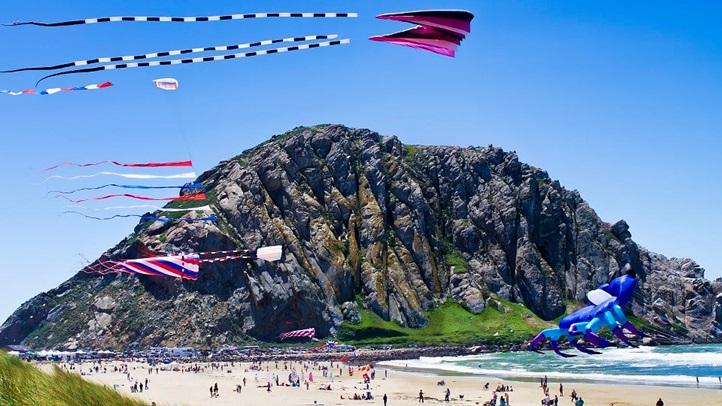 SEASIDE BURG: We rather like our quaint ocean-snug towns to be a bit laid-back, a bit easy, rather breezy, and full of colorful wind socks, taverns with copious outdoor seating, and a great view. No hustle or bustle, thank you very much. So when we say that Morro Bay has a rather busy April ahead, you can take heart, and feel relief, that the charmer of a rock-close village won't be giving up all that makes it so dang Morro-Bay-y. Nope, it just has a few hopping happenings, but hopping Morro Bay-style. Want to know more? Then read on about...
CITYWIDE YARD SALE: This one's growing increasingly more well-known, and for good reason: Not all that many cities go full garage- or sidewalk-sale. Sure, neighborhoods or streets might, but Morro Bay is one of the few towns to go all-in. Need to find a funky old pair of jeans and a lamp to match? Be there on Saturday, April 5 and Sunday, April 6.
MORRO BAY KITE FESTIVAL: Hoo boy. You can photograph a fluttering kite with most anything in the background, but Morro Rock? That kind of snapshot is just made for framing. Haul out your own string-sweet creation if you like for some fly time, or just swing by to watch. Everything goes down, or, um, up, over the final weekend in April.
U.S. & World
News from around the country and around the globe
HAPPY 50TH, MORRO BAY! And it happens to be the half century mark for the town, which was incorporated a half century ago. We know, we know, the mondo rock out in the water is a wee bit older -- and it is actually a volcanic plug, truly, right? -- but the beautiful town came together, all official-like, in the mid-60s. Lively doings'll go on throughout 2014.
Copyright FREEL - NBC Local Media