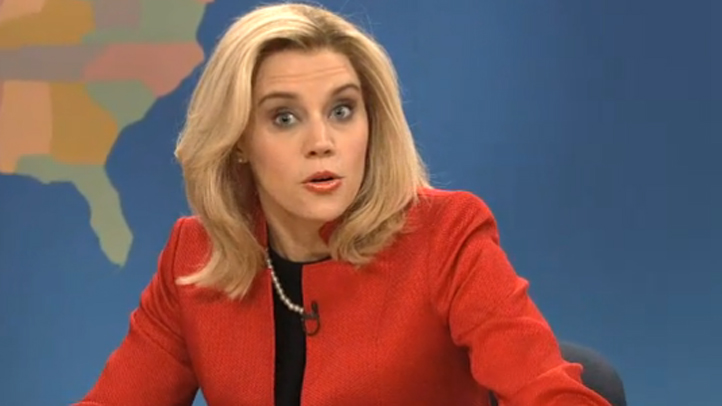 "SNL" received a visit from "Ann Romney" on Saturday night, capping a week where Mitt Romney's wife made news for taking on GOP critics of her husband's campaign.
"This is hard. You want to try it? Get in the ring," the real Ann Romney said Thursday on a Iowa radio station.
Comedienne Kate McKinnon, in playing Romney's wife on "SNL's" Weekend Update, revealed "sacrifices" the campaign has forced her family to make – like missing out on apple picking season.
U.S. & World
News from around the country and around the globe
"It's fall and we're missing apple picking season, and we love apple picking," she told host Seth Meyers. "It's like Mormon Mardi Gras. I once drank so much cider I woke up the next morning in my bed wearing my pajamas."
When asked about being perceived as an elitist, "Ann Romney" brought up the Obamas' friendship with Jay-Z and Beyoncé (and emphasized the accent mark at the end of Beyoncé).
"Is hanging out with Jay-Z and Beyoncé something regular people do now?" she said. "Everyone always says I'm unrelatable because I had a horse in the Olympics. Well let me tell you what – I would kill that horse if I could meet Beyoncé."
She added that Democrats "get to eat with cool people like George Clooney. If you're a Republican, you get to shake Jon Voight's cold lizard hand."
Fake Ann Romney saved her toughest words, though, for Republican critics.
"Do you really think this would be going better if you'd nominated someone else?" she asked before before going on to dismiss Romney's earlier challengers Rick Santorum, Rick Perry, Ron Paul and Newt Gingrich. ("If you think I'm unrelatable, check out Callista Gingrich. She looks like a character from 'Mars Attacks.'")
"Well, if this race was so winnable, how come Jeb Bush, Chris Christie and Marco Rubio decided not to run?" she concluded. "If you don't nut up, you got to shut up."
In another Weekend Update segment, Meyers touched on Obama's Univision "Meet the Candidates" forum in which the president said, "you can't change Washington from inside, only from the outside."
"President Obama, what are you doing?" said Meyers of Obama's remark. "Your poll numbers are looking great, your opponent is in flames, I haven't heard Joe Biden's name in months, which is great and yet you come out and say I can't change Washington from the inside. I'm not saying what you said isn't true, I'm saying, why are you saying anything during this Romney tail spin."
Besides Weekend Update, other politically-charged sketches on "SNL" included bits on Republican-funded tampons and ill-informed, undecided voters.
According to "SNL," for undecideds the unanswered questions of 2012 election include: "When is the election? What are the names of the two people running and be specific? Who is the president right now? Can women vote? Can a woman have a baby just from French kissing?
Also this week, Joseph Gordon-Levitt followed Seth MacFarlane's hosting appearance on SNL's season premiere by stripping, cross-dressing, playing the son of the world's most interesting man and an overly enthusiastic urban fashion designer.
Musical guest Mumford and Sons appeared as a Beatles cover band during one skit and also performed the tracks "I Will Wait" and "Below My Feet."