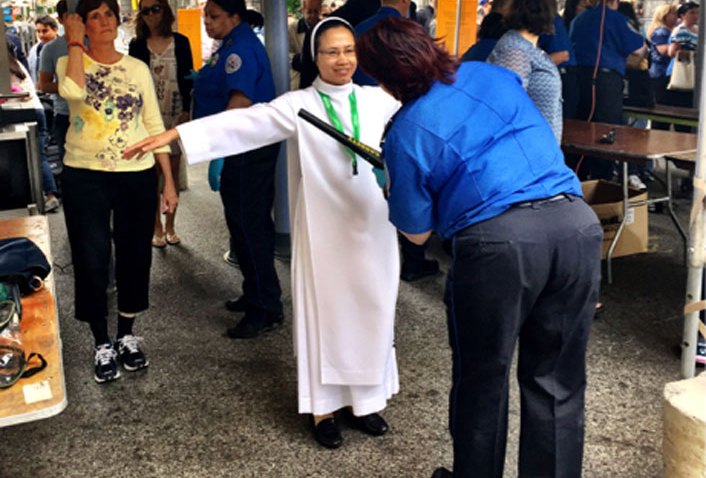 After whirlwind tours of Washington, D.C., and New York City that included plenty of hugs, handshakes, historic speeches and meetings with honored guests, Pope Francis' U.S. tour continued Saturday in Philadelphia, where he greeted more adoring fans with waves, smiles and, of course, blessings.
As cheering crowds lined the streets of Center City Philadelphia, the pope's signature Fiat 500 pulled up to the steps of the Cathedral Basilica of Sts. Peter and Paul, where he celebrated Mass.
U.S. & World
News from around the country and around the globe
The theme of the Mass, "What About You?", was particularly poignant to those in attendance. It was a story about St. Katherine Drexel, who was born in Philadelphia and lived most of her life in the area.
An excerpt from Pope Francis' prepared homily:
Most of you know the story of St. Katharine Drexel, one of the great saints raised up by this local Church. When she spoke to Pope Leo XIII of the needs of the missions, the Pope -- he was a very wise Pope! -- asked her pointedly: "What about you? What are you going to do?". Those words changed Katharine's life, because they reminded her that, in the end, every Christian man and woman, by virtue of baptism, has received a mission. Each one of us has to respond, as best we can, to the Lord's call to build up his Body, the Church.

"What about you?" I would like to dwell on two aspects of these words in the context of our particular mission to transmit the joy of the Gospel and to build up the Church, whether as priests, deacons, or members of institutes of consecrated life.
He also called for a more active role for women in the Catholic Church.
"In a particular way, it means valuing the immense contribution which women, lay and religious, have made and continue to make, to the life of our communities," he said.
Read the full homily as prepared here.
The pope then traveled to St. Charles Borromeo Seminary, where he had a private lunch with Seminary students and rested before a busy afternoon at Independence Hall and at the World Meeting of Families.
Earlier that morning, the pope's plane, an American Airlines 777 dubbed "Shepherd One," landed at Philadelphia International Airport. The Bishop Shanahan High School band played the "Rocky" theme song as His Holiness stepped off the plane and was greeted by many religious and political leaders, including Pennsylvania Gov. Tom Wolf and Philly Mayor Michael Nutter.
Pope Francis waved to the large crowd that had gathered at the airport and, in a touching moment, stopped to give a special blessing to the son of Bishop Shanahan's band director, Chuck Keating.
While in the "City of Brotherly Love" this weekend, His Holiness will attend events both large and small. The biggest events will be a speech on religious freedom and immigration at Independence Hall -- at a lectern used by President Abraham Lincoln when he delivered the Gettysburg Address -- and celebrating Mass on the Benjamin Franklin Parkway with an estimated 1.5 million people.
And all throughout his weekend in Philly, there will be plenty of photo ops, blessings and rides in his black Fiat and his white "Popemobile," which is really a modified Jeep Wrangler.
Just like in D.C. and New York, security will be extremely tight. Several of the city's major highways have been shut down in and around Center City. An 8-foot-tall mesh fence has been erected around the secure zone. The fences, concrete barriers and bike racks line every road in the security zone.
Those attending the festivities on the Parkway found security to be extremely tight. NBC10 Philadelphia reporter Morgan Zalot said that security officials were checking people's bags in her hotel before they leave -- and that hotel is not even inside one of the secure checkpoints. And once attendees get to the official security checkpoints in Center City, they were told to throw away any food or drinks they have in their bags.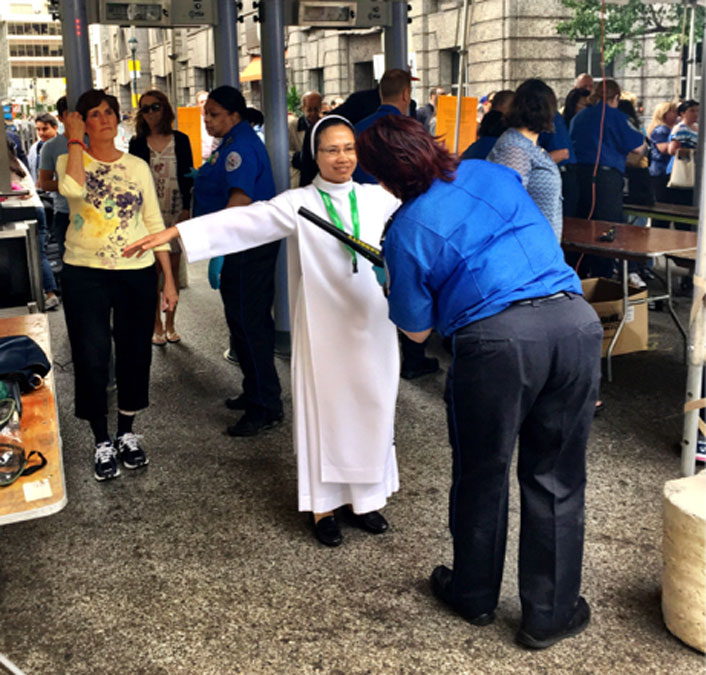 Cars are restricted in certain areas of the city -- even for residents who live there -- and those that weren't moved out by their owners were towed.
As for businesses, well, they were told weeks ago to stock up with as many supplies as they could, because getting reinforcements in the days leading up to the papal visit was going to be tough.
City officials, however, believe all of the inconveniences are worth it to provide the pope and World Meeting of Families organizers a secure place to congregate, pray and celebrate the event's focus -- the family.
Kim Vinch, a special education teacher from Lawrenceville, New Jersey, and a World Meeting of Families volunteer, got off the Amtrak train at 8:10 a.m. dressed in a bright orange shirt. She worked the Convention Center Friday, and will be on the Parkway Saturday and Sunday.
"I think it's going to be a lot more exciting because the pope is coming in today," Vinch said. "It's outside, it's a beautiful day."
"I am so inspired," she said. "Even watching the Mass at Madison Square Garden last night, even when he was just in his thoughtful prayer after Communion it's hard not to get emotional. He seems to touch so many people so deeply.
"People from all walks of life, even on my Facebook, I hear people, 'I'm not religious' or 'I'm not Catholic' but he's the real deal.' I think so many people are feeling inspired."
Across the Parkway, more than two dozen people who traveled from Fort Pierce, Florida, to see Pope Francis sat bundled up on sleeping bags they set on the asphalt right along a fence of bike racks.
Lauren Hurtado said the group arrived at about 7 a.m. to camp out. A cool, strong at times breeze blew as she talked excitedly about how it would be most of their first time seeing the pope. Their group of 26 ranges in age from 14 to 77.